Kiwi, the founder of Lewis Car Club, the Daddy of them all. It seems that nobody can remember a time when Kiwi was not to the fore in the local performance / modified car scene.
Kiwi has built and owned some outstanding cars but he also has natural talent behind the wheel. I remember the days when we would meticulously prepare our cars for autotests, making sure that the suspension and engine were at their peak and then Kiwi would turn up with a rental Mk3 Escort Van 1.1 and obliterate all the opposition! Here's a brief picture history of the Kiwi from the Barvas Machair Autotests of the 1970′s to the Porsche 911′s of today (of which he has two!).
Here's the earliest known photo of Kiwi, standing alongside his Sunbeam Alpine at home in Back: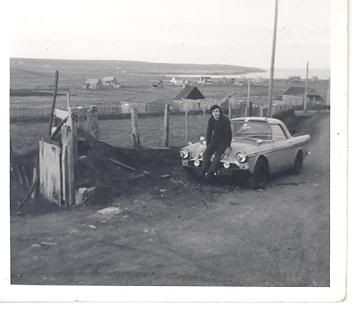 Today's cameras have a sepia option to make the photo look like an archive shot. Well here's the real thing – Kiwi leading Charlie Clark (both in Hillman Imps) at the Barvas Machair Autotest of May 1975:


And here's Kiwi in Imp no.4 chasing Geordie Mitchell (John Neil's father) in his rallycross Mini at the same Autotest:


The two tone Imp in action again at Barvas. Although only 875cc, this Imp was unbelievably rapid due to its R17 cam (Imp anoraks, please take note!):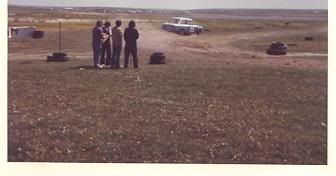 Here's Kiwi's evil looking fast road Imp. Although only 998cc, this pocket rocket went like stink due to its race tuned engine and twin Dellorto carbs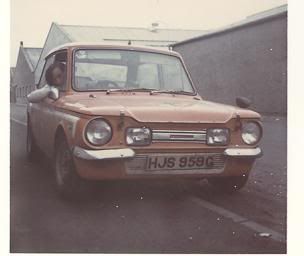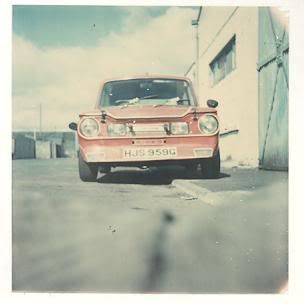 Two well known Stornoway Garage Proprietors standing alongside a rally spec Opel Ascona at the Motor Show:


Remember that rotten car that was hanging from the roof of Kiwi's Garage in New Street, right above your head at the counter as you paid for your MOT? Well, it was an Austin Healey Sprite and here it is in its original condition. Ewen Libby restored it to an unbelievably high standard a few years ago and it is now owned by fotocopy (photos please, Copy!):


This is a red Lotus Elan (YBW 142J) which a visiting dentist wrote off on the Clisham. Our Kiwi recovered it and bought it off the insurance company for £250. That night, he went back to the Clisham, picked up all the pieces of the shattered front end, glued them all together and made a fibreglass mould for a new front end. You would never know the difference!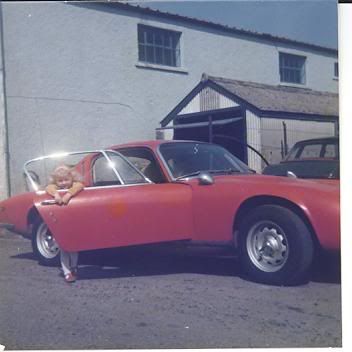 Who remembers this Fiat 2.0 Sport Mirafiori? Kiwi put it on its side in the ditch outside Jimmy Blake's house in Newvalley, racing John Angie Bounce. The car came to rest in the jeek, having narrowly missed a telegraph pole.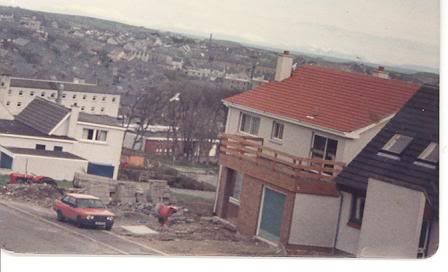 Kiwi then graduated to more modern cars. He had the first Mk2 RS2000 on the island (KAS 666P), sourced from an Inverness farmer through Roddy Graham (who else?). There's a lot about KAS 666P in the John Angie Bounce thread but here are some pics of it while Kiwi had it, Autotesting on Barvas Machair again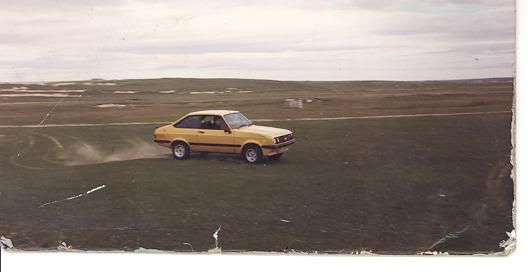 And here she is, sitting low on 2″ lowering blocks and Wolfrace Slotmags. The handling with the extra wide tyres was appalling but, who cares, she was looking good!


Kiwi's build up of a Dax Cobra from a 1971 Mustang base took 15 years and is the stuff of local legend. There are plenty photos of this rebuild in the Build Up forum but here's my favourite – Charles Bronson himself alongside the Cobra shell:


And here's the finished product, 15 years later, demonstrating Kiwi's signature parking technique:


Kiwi has had several Porsche 911′s. Here's the first, a very tidy Carrera in an unusual colour:


And here's another, E481 GEO, behind the jet that used to stand outside RAF Stornoway:


And at another location: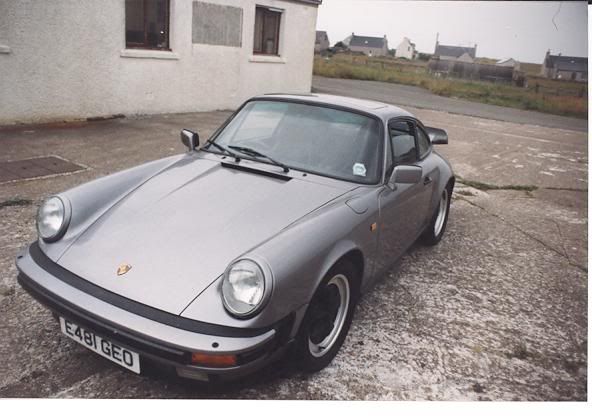 And waiting to join the circuit at Silverstone: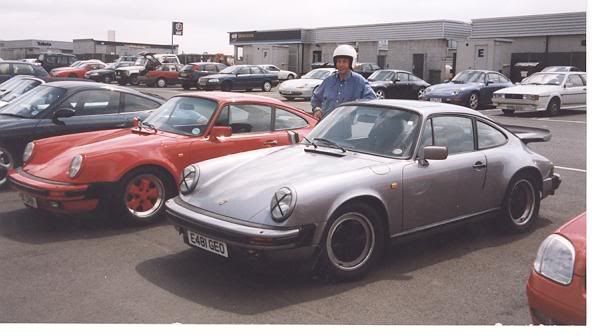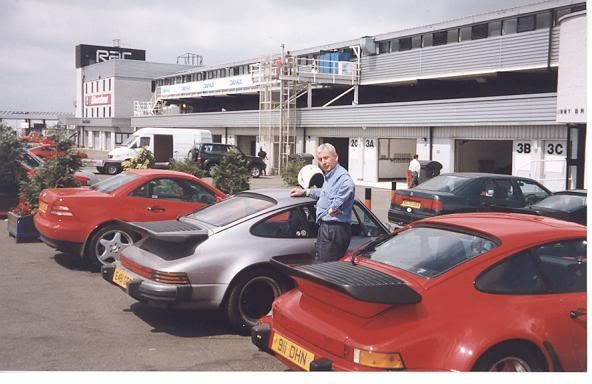 And here's another, M352 VNM. This is Kiwi's new track dog with lowered suspension, RS exhausts, Recaro bucket seats, four point harnesses and various other goodies – pictured here at the Lewis Karting Centre Motorsport Day, 8 September 2007. Kiwi's other 911 is an elusive Ruby Red Turbo 4, one of the last air cooled built. 408bhp through four wheels and it is seldom seen out of captivity. However, we hope to bring you pictures soon.


Last but not least, here's Kiwi's Barn Find of the Century, a 1958 Jaguar XK150 convertible, left hand drive. This car was owned by someone from Achmore who had emigrated to the Bahamas. The car was lying in a byre in Achmore for years and Kiwi found out about it just before it was about to be sold to the mainland. He restored it and, resplendent in a cracking paint job by Ali Matheson of Leurbost, it is a true classic: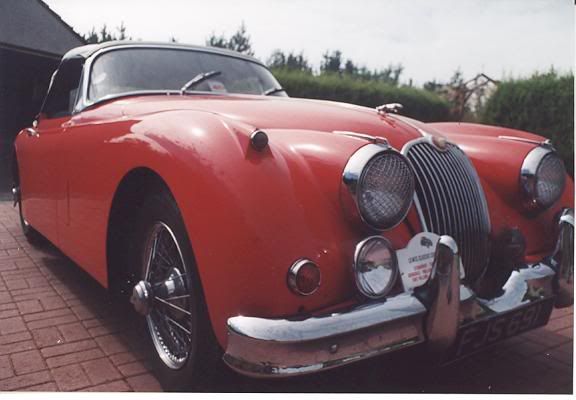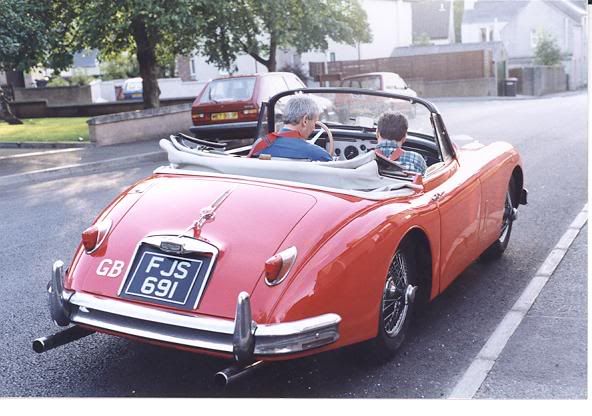 Video of Kiwi with his Jaguar XK