OK, showing my age here, but who remembers the late Jim Auld's stunning Mk1 RS2000, pictured here in front of Lews Castle. Or who remembers Jim Auld? Jim was a cracking guy who had time for everyone but he died young, sixteen years ago. He ran a garage beside Engebret's booze store on Inaclete Road, where the ACE project now have a workshop. Many a late night I spent in that garage with Jim and his mates – John Angie Bounce, Kenny Beag (Louis Don's brother), Davie 'Brackie' Bingo and Willie 'Fox' Murray. If it wasn't changing engines on Brackie's Rover V8 SDI's, it was shoehorning Ford 2 litre engine and running gear into Kenny Beag's Avenger. These were the days – gone, never to return. This is a foto of an iconic poster which was hanging in Jim's Garage and then, latterly, in Kiwi's shop. Copy (Mackenzie Motors) now has the poster hanging in his garage. Jim wrote this car off at the Waterworks and the engine went (I think) into one of JoJo's Escorts. All the stripes were painted on and Will Evans handpainted the RS beside the door handles, copied off the steering wheel boss.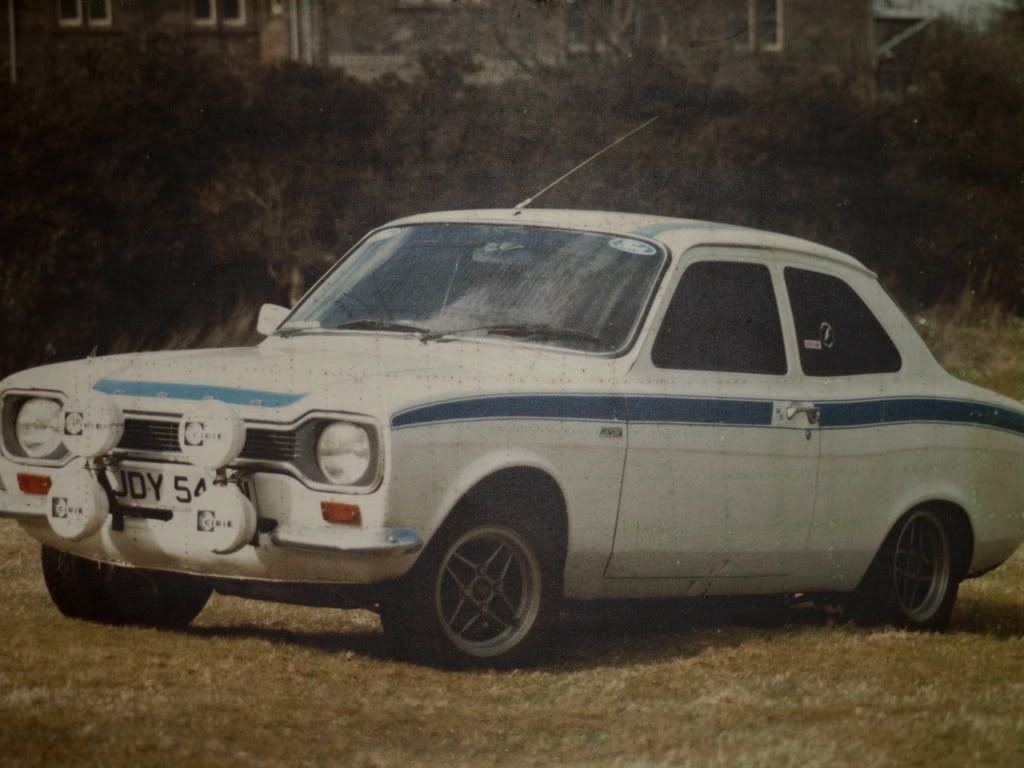 Here's Jim and his new wife, Anne Marvin, in their wedding car (if you can call it that!). The pics were supplied by fotocopy who was the proud owner of this piece of scrap. It was so bad that there was a sticker on the boot saying 'Jim couldn't fix this!'.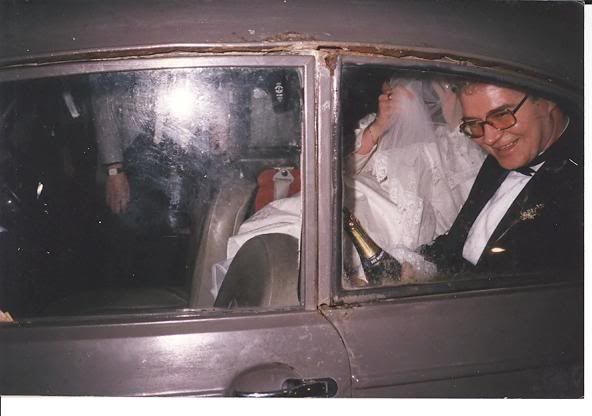 Jim and Anne's wedding reception was in the Newton Hotel, where the Mormon Church is now and, on his wedding night, Jim foolishly left his car in the Crown car park. Once Bounce, Brackie, Fox and Kenny Beag were finished with it, there was a trailer piled high with rubbish out of the garage WIRED to the towbar and any amount of cans etc wired underneath. Jim spent the whole ferry crossing on the car deck, trying to unwind all the wires.