Murdo Graham is a double legend. He's a legend because of the road cars he had but also because of his rallying expoits which are well covered in the Motorsport forum.
Murdo is the brother of Roddy Graham and the two brothers have contributed a huge amount to the performance scene in the islands whether it was sourcing AVO products, rallying at the highest level or supporting the latest Graham generation through the early stages of a rally career.
Here's a couple of pics of the Brothers Graham from away back. In the first photo, Murdo and Roddy are outside Roddy's house in Folkestone with Roddy's longsuffering wife, Deirdre, trying to keep hold of young Alasdair who is desperate to get in on this rally action.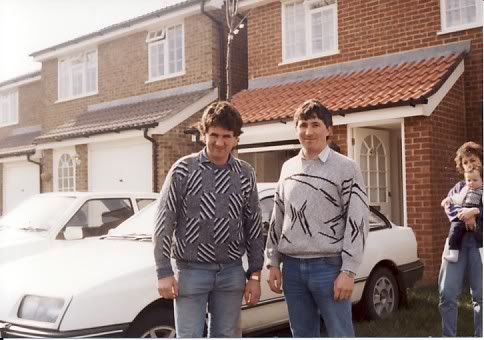 And Mudo on his own.


As we've said elsewhere, Murdo and Roddy did not inherit this racing gene from their easygoing father, Alasdair Rhuaireagan, or from their sharp witted mother, Agnes. They did, however, have two uncles on their mother's side who were into their cars and that's probably where the bug came from.
Murdo started out with a Mk1 Cortina GT in 1975/76. The car actually belonged to Roddy and had uprated / lowered suspension and a 1500 pre Xflow bored out to 1580. Murdo added a set of 40 DCOE Sidedraught Webers, which had come off a 1480cc 8 Port Mini, to replace the standard twin downchoke Weber. Murdo also sourced manifolds and throttle linkage parts and spent quite a while experimenting to get the throttle linkage right! A new set of Weber Jets to suit the Cortina engine were fitted and set up. This early experience in fitting and tuning Weber DCOE's would prove invaluable during Murdo's later rallying career. Fast for its day, the old Cortina could pull 108mph in the right conditions.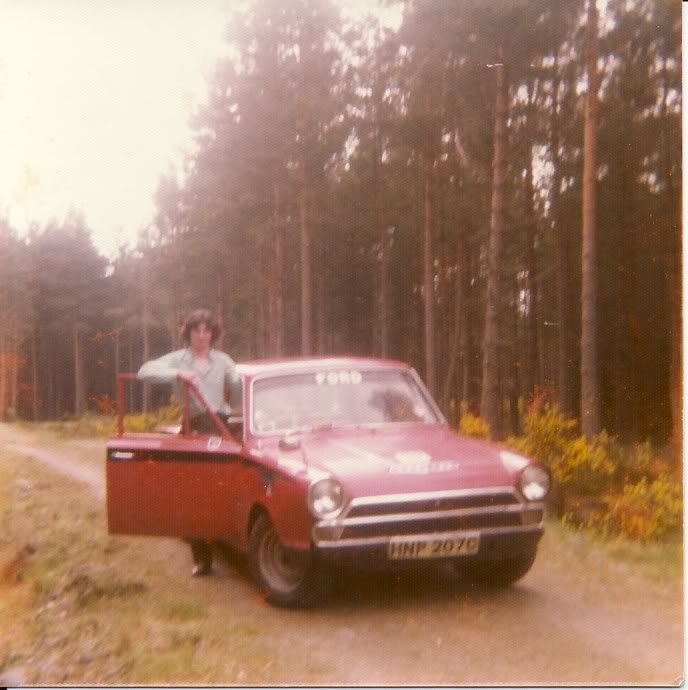 Having lived in Inverness for a few years, Murdo returned to Lewis at New Year 1980. Temporarily out of rallying, Murdo fell off the Ford straight & narrow by buying a Dolomite Sprint – fast but with some interesting handling characteristics on the Barvas moor! He soon saw the error of his ways and started looking for a good Mk2 RS2000 while running assorted tidy Mk2 Escorts. After a couple of frustrating trips to the mainland to look at RS's which were not as described, Murdo spotted one in the Motoring News with an Edinburgh phone number. The owner was offloading either an RS2000 or an HS Chevette – one or the other had to go.
And here we come to my favourite car ever on the island, ever! An absolutely stunning Signal Amber RS2000 Custom. I've never seen anything like this car since and it was sooo clean. Murdo agreed to meet the owner in Perth at 1.00pm and Roddy and himself set off on the first ferry in Roddy's Signal Green Mk2 Mexico. They got to Perth and this 1978 Signal Amber RS2000, XCS 778T, was absolutely minted. They wasted some time trying to find fault with the car but could not find anything. Apart from 205 Yokohama A001′s, the car was completely standard.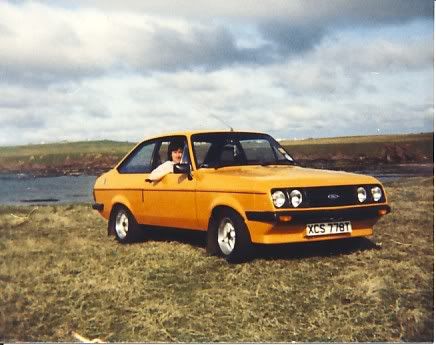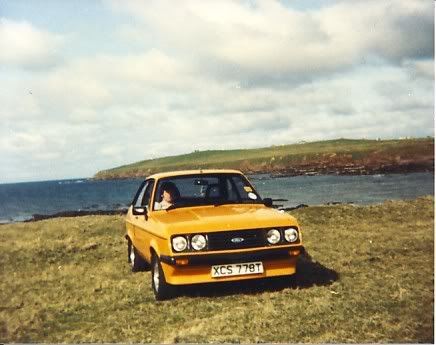 XCS 778T was Murdo's favourite road car of all. He eventually sold it to Roddy who sold it on to Donnie Smith, Marybank (Cuddy). According to the DVLA, XCS 778T was last taxed in 1990.

While building his house in Back, Murdo bought a Mk2 Escort 1300 Automatic, HJS 301P. This car was desperately slow. According to Murdo, if you pulled out of Tolmie Terrace in the morning and headed up Anderson Road, you would need to shave again by the time you got to the top of the hill! And so the 1300 and Auto box were ripped out to make space for a 1600GT from a Cortina and a manwell gearbox. 5.5" steel rims, Mexico spoilers, Cibies and a respray completed the look. Murdo sold HJS 301P to Ambulanceman George Campbell from Kennedy Terrace.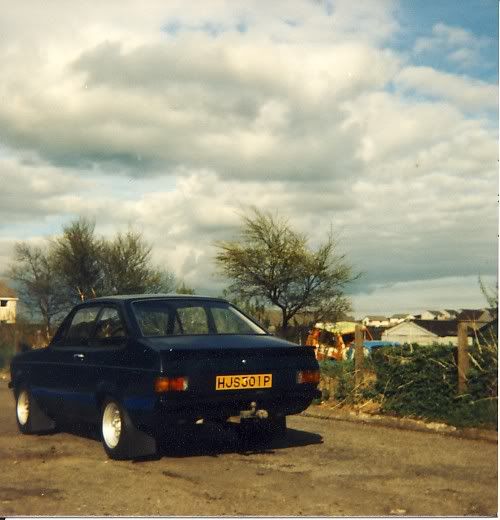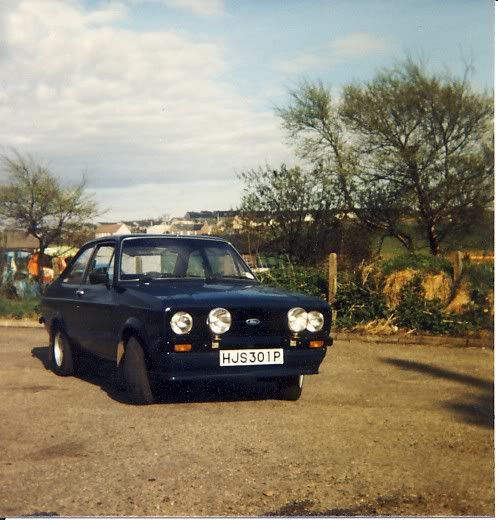 It was now 1987 and Murdo's next car was ACP 425V, a gleaming Black Mk2 RS 2000 Custom. Sourced from Aberdeenshire by brother Roddy (who else?), this car was kept by Murdo for a couple of years before he sold to Willie Burns.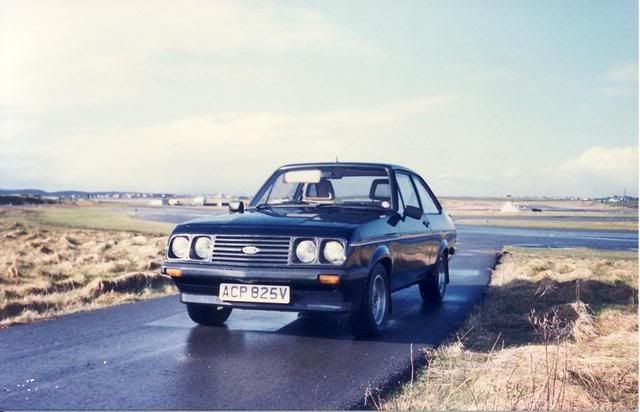 In 1989, Murdo bought a white 3 door Sierra which Roddy had sourced in Folkestone. Shortly after, C934 EYA was fitted with seven spoke alloys and a 2.1 Pinto engine out of a LHD road rally Mk2 Escort. A single 45 Weber DCOE on a Lynx manifold completed the engine. This was no Cosworth but still a very quick 3 door Sierra. It was the 1994 Lewis Car Club Moonlight Rally winner and is still lurking in a corner of Murdo's garage.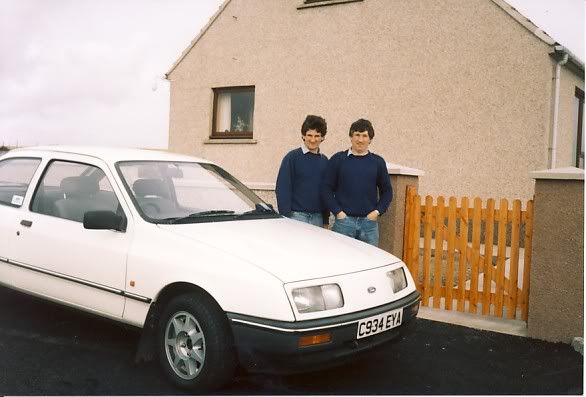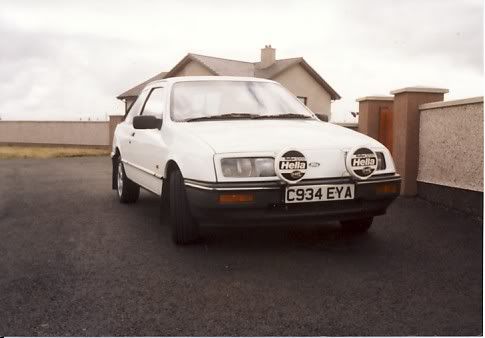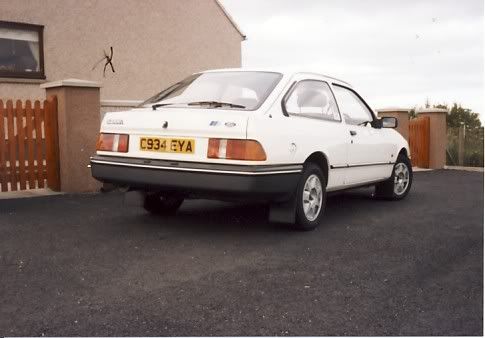 In 1992 along came JTM 35V, an X-Pack RS2000 with twin 45 Webers, a World Cup X Member, quick rack, limited slip diff etc. This was a very quick car which handled superbly. It was only used occasionally and Murdo eventually sold (reluctantly) to Angus Maclennan from Marvig (Clines). Clines won the 1993 Moonlight Rally in this car but a short time later it was written off on Bells Rd in an accident with a forklift. Murdo still regrets selling this X-Pack.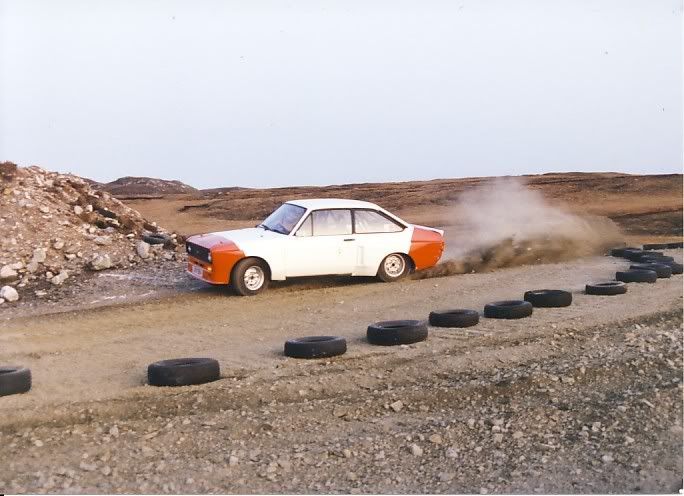 Finally, Murdo's famous TOYO Mk2 Escort was an ex Rallycross car bought purely for use at Lewis Car Club Gravel Autotests at the Lochs Road track. It had a 2.1 Pinto and all the usual rally bits but critically lacked a limited slip diff. Murdo won the local gravel Autotest Championship in this car in 1994. Murdo sold this car in 2003 to the Ross boys from Coulregrein.


As a postscript, its worth noting that Murdo has the honour of bringing the first ever RS2000 onto the island – an Olympic Blue Mk1 just like this one.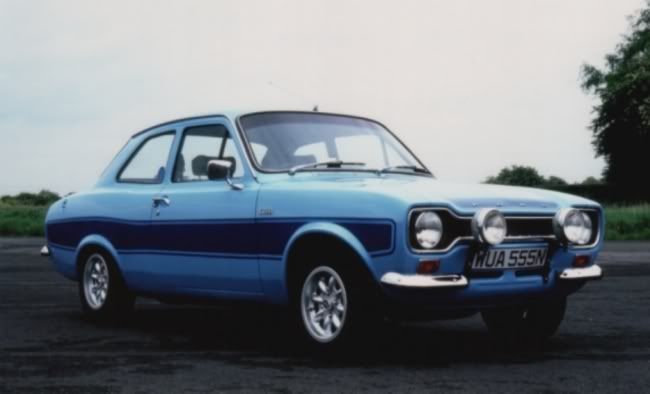 It belonged to a close friend in Inverness who was trying to sell it and Murdo offered to take it to Lewis to test the market. Donnie Morrison from Barvas bought it and then Bandy from Brue asked for a shot with a view to buying it from Donnie. Unfortunately, he put the RS through a drystone dyke backwards at Shawbost Church and had to buy the wreck at full market value. Bandy got it reshelled in a bubble arched brown and gold creation which was a common sight on island roads for several years