Norman 'Gagan' Macleod was crazy with a capital C. His driving exploits are the stuff of legend among the Stornoway Old Skool. Norman's driving was at a different level altogether from the rest of us – it had to be given the speed he used to drive at. Every run to town and every run around Stornoway was treated as a full on road rally. In the 6 months before he left the island, the Gagan was stopped by the Law over 60 times. In three weekends alone, he was stopped 15 times. Despite all the cautions and warnings, he was only charged twice.
I remember when Norman used to work for DHM and the guys in the yard would give him money for petrol just to see him flying sideways through the yard in his unique Lotus Capri every lunchtime. It was a common sight to see the fence of DHM's yard on Island Road lined by schoolkids, Isles Construction employees and the DHM boys every lunchtime as the Gagan put on his free show. And it was just as common to see Norman sitting in the back of a Police Car in the afternoon being cautioned following complaints about the noise from people in the town centre!

Norman's first car was LJS 8R, a magnificent Vauxhall Victor bought from Murdo Plumister and sprayed in the barn in the middle of the night with Massey Ferguson Red and TEF Grey. The bottom half was meant to be Rover Silver but the tin ran out half way round! Norman fitted bucket seats and removed the Victor petrol tank from under the rear floor, replacing it with a smaller Cavalier tank in another location. Where the original tank was he fitted a remote control loudhailer and used to go through town winding people up. The Feds never did find where the noise was coming from!


Norman's next car struck terror into the hearts of the local Constabulary. It was an innocent looking Ford Capri 1.6GL when Gagan bought it but he soon turned it into a real tarmac monster. He fitted a Lotus Twin Cam engine, an RS2000 diff and suspension and a Capri 3.0 Litre dash. At first, the Capri sat on wild Slotmags – 8″ at the rear and 6″ at the front – but these were later changed for 2.8 Special wheels. Norman experimented with a 1760 Burton engine but soon went back to the Lotus unit.
There was one time when Norman was carrying on through town in the snow in GUS 580T and the Police pulled him over. He was told that if they saw him in town again that night, they would put him in the cells but, instead of going home, our Norman headed down to the airport where he spent the evening drifting up and down the main runway at 110mph, taking out a runway light in the process!
Another time Norman was heading home and decided he would take the Manor roundabout flat out. He reached massive speed out Macaulay Road and, right at the last minute, he saw the 'Jam Sandwich' sitting at Manor Filling Station. Lock up, smoke everywhere but it was too late. The Police followed him and stopped him at the Cearns. Again, he was given a warning and told to be on his way. Working on the principle that lightning never strikes twice and that he would not be encountering the Law again that night, Norman decided to run flat out through Newmarket. What follows seems simply unbelievable but I've heard the same story from two witnesses who were visiting Burnell so Norman is not exaggerating in telling what happened next. Norman was flat out past Tong road end and was soon on the straight leading up to Burnell's mother's house in Newmarket. It just happened that Burnell and two mates were replacing the gearbox in a Silver Capri 2.0S and this gearbox job was taking place by the side of the main road.
There were a total of nine cars parked on either side of the road at Burnell's bend that night. One of the boys heard this manic howl coming out the road and shouted to Burnell to get out from under the Capri "because this guy's not going to stop". Gagan came through at who knows what speed and his Capri went sideways through the bend – right between the two rows of parked cars!
The Capri then span round and Norman stood on the brakes. The car was travelling dead straight – but backwards – down the Newmarket road towards Bridge Cottages. Suddenly, the Capri flipped round and Norman floored it to continue in the right direction. Gagan turned at the Waterworks and went back to Burnell's. The guys there were in shock and, although Norman tried to tell them it was the oldest trick in the book, they knew it was a complete fluke.
Here is that Capri, GUS 580T.

Norman then moved onto a yellow Escort Mk2 Mexico, OSO 423R, fitted with a 2.0 Pinto, a Capri 3.1 carb jetted down to a 2.1 and Bilstein suspension. Again this was an iconic car around the town. I remember Gagan with this car, 5 up in the snow, sideways in Macaulay Road from the roundabout with 110mph showing on the clock. The Police gave chase and eventually caught up with him on the other side of town. The Officer had a look at Norman's rear tyres which were completely bald and announced, "you can't drive a car with tyres like that!". "I thought I was doing a good job!" replied the Gagan.
Another time, Gagan was drifting round and round the Council buildings in the snow, unaware that the Police car was half a lap behind, trying to catch him! For us onlookers, it was just like the opening sequence in the Dukes of Hazzard where Sheriff Roscoe P Coltrane is chasing the Dukes round and round an Oak tree.
The original shell of OSO 423R ended its days out the Ness peatroads. Norrie Clain, Tam Soval and others used to go over to Ness on a Saturday to watch Gagan in action on the peatroads. 5,500rpm in fourth gear has been quoted!
There aren't many photos of OSO 243R but here are a couple. The second pic shows the exhausted original shell of OSO 423R lying near a re-shelled OSO 423R, painted in one of Norman's hairiest colour schemes. I think that the re-shelled car had the engine and running gear from Norman Central's Signal Green RS2000, SLE 33R, in it.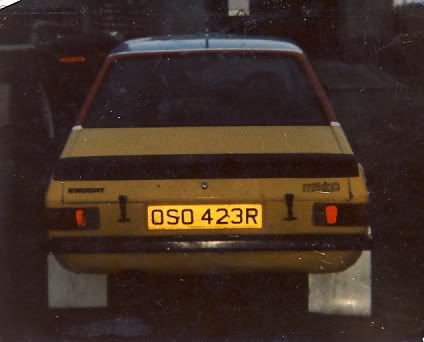 Norman then had a spell of bad luck with a red Cavalier SRi which he bought in Lochs. The day he bought it, he took it to Nomie's bodyshop and repainted the bottom half. He then headed to Ness (at high speed) and hit a sheep. He was so mad at this turn of events that he then took off flat out and blew the gearbox! All within 24 hours of buying the poor car.

Norman then settled down slightly with a very nice Opel Manta GTE Exclusive in Graphite Grey, E534 HSP, sourced from Invergordon. This was a low mileage, three year old car and, apart from a coming together with another car on the machair and a fencepost in Cross, Ness, Norman generally looked after this car.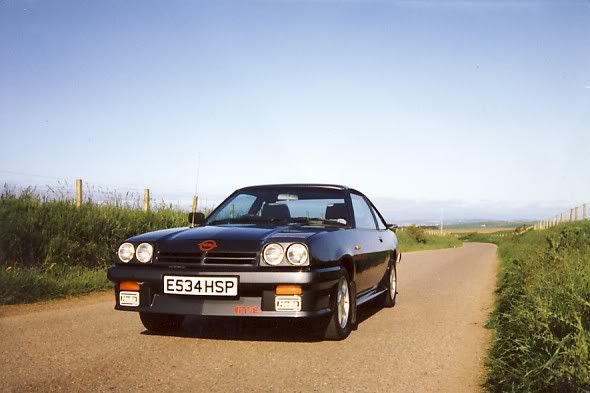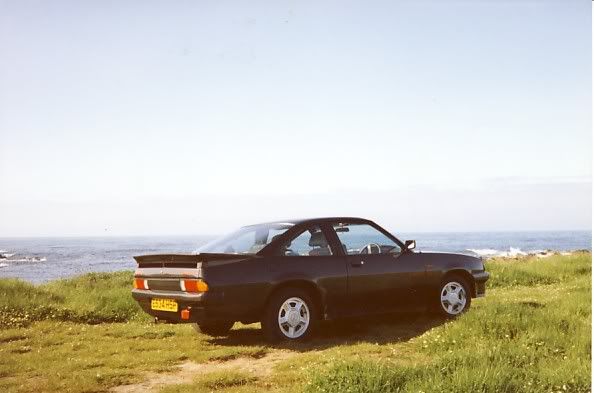 A white Mk2 Mexico from Invergordon came next, RSR 764S. Again, this Mex had a 2.1 Pinto engine and Bilstein suspension as well as twin 45′s carbs, Alleycat wheels and Cibies. Norman sold this car to Montrose.

An A plate Escort RS1600i came next followed by the Fiesta XR2 in the last picture above. This Fiesta, G790 DKA, was sold on the mainland but resurfaced later in Barvas.
Norman then moved up to the real classic stuff. The Escort RS1800 was in production from 1975 to 1978. It was based on the Mexico shell but was powered by an 1835 Cosworth BDA engine. Only 109 RS1800′s came to the UK and our Norman owned two of them. Price new was £2,825 for the Basic model and £2,957 for the Custom. The most recent RS1800 to sell went to Fraserburgh for £34,000!
Norman's first RS1800 was a rolling shell which he bought from Fife. He sold it on as a rolling shell to a mate in Ireland.

Norman's next RS1800 was a real cracker, PMV 126R. This was a rare factory arched car which Norman sourced from London with only 16,000 miles on the clock. Norman sold it to the same mate in Ireland and regrets it to this day. He was telling me the other day that selling PMV 126R was the biggest mistake of his life. That mate in Ireland now has six genuine RS1800′s along with GYN 126T, the last Boreham built Escort. The Mk1 RS2000 in the second photo below was bought by a mate of Gagan's for £5.5K and sold two months later for £10.5K.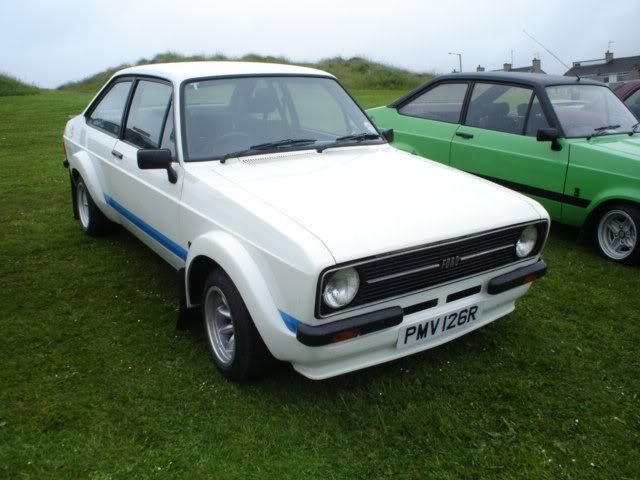 Norman also owned two Mk2 Lotus Cortinas, TOW 36H (from Mintlaw) and SKX 820J which will be well known to Stornoway Old Skoolers as Keith Macmillan's car. Keith had a habit of driving this car into the back of taxis. Gagan bought it accident damaged and just sold it on.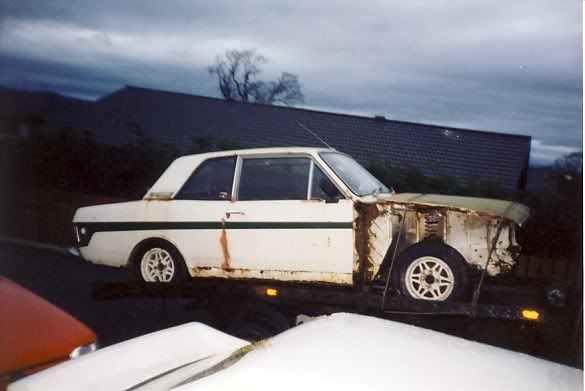 More recently, Norman has owned a number of RS2000′s – all minted examples which have sold for crazy money. Some of them went for five figures! And he currently owns an RS1800 replica, built from a 1.1 Popular base by Roddy and Ali Graham. Pics of all these cars can be seen in the 'Norman Gagan's RS's' thread in this Gallery – http://stornowaycruise.com/forum/viewtopic.php?t=847
Finally, it would not be right to finish without mentioning Norman's rally career. His crazy driving as a youngster stood him in good stead for loose surface rallying in the Scottish forests. In the 2005 Snowman Rally, Norman was running a big wing Mk1 Escort and was officially recorded as being faster than all the WRC cars at the 3/4 point of one of the longer snow covered stages. I wonder where his ice driving skills came from?

Norman also ran a Mk3 Escort rear wheel drive with a 1300 BDH engine in the 1998 Snowman Rally but was dropped from 28th overall to 48th due to being caught speeding on a road section. Some things never change.
Gagan also ran a yellow Mk2 Escort, YAK 300L, with a 186bhp Pinto, a floating axle and 5 speed dog box. He came an excellent 32nd overall in the 2001 Snowman Rally in this car.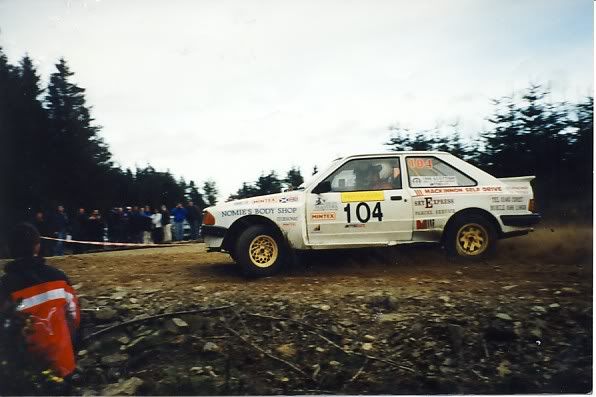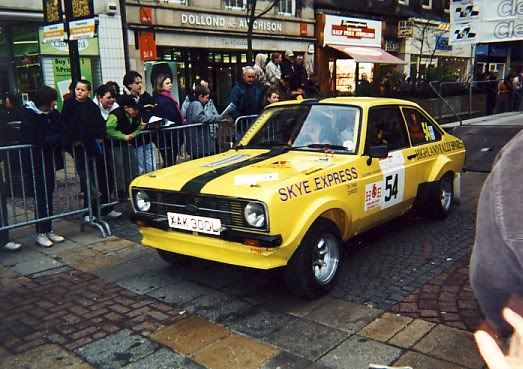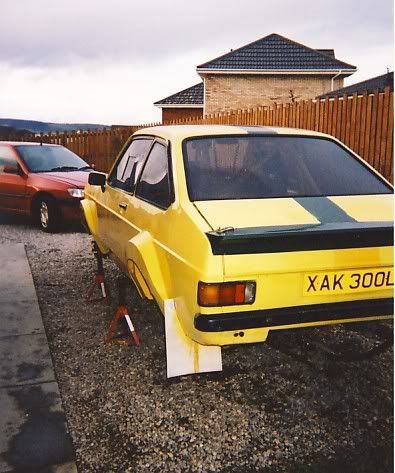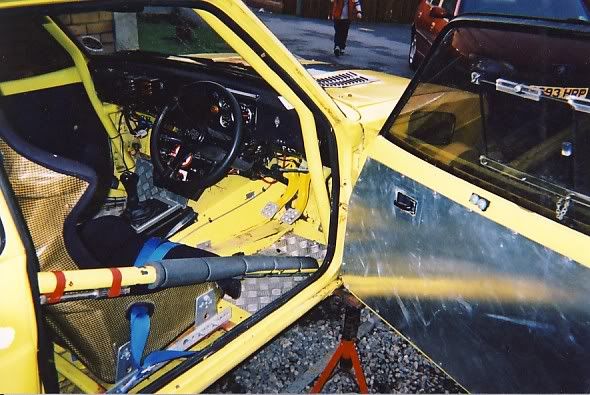 So there you have it. An Old Skool legend who was crazy with a capital C. Norman is a registered user of this forum under the name normanbda and we look forward to him being involved in the Club. He's not finished with the mint Mk2′s yet and we might even see him in the forests again soon.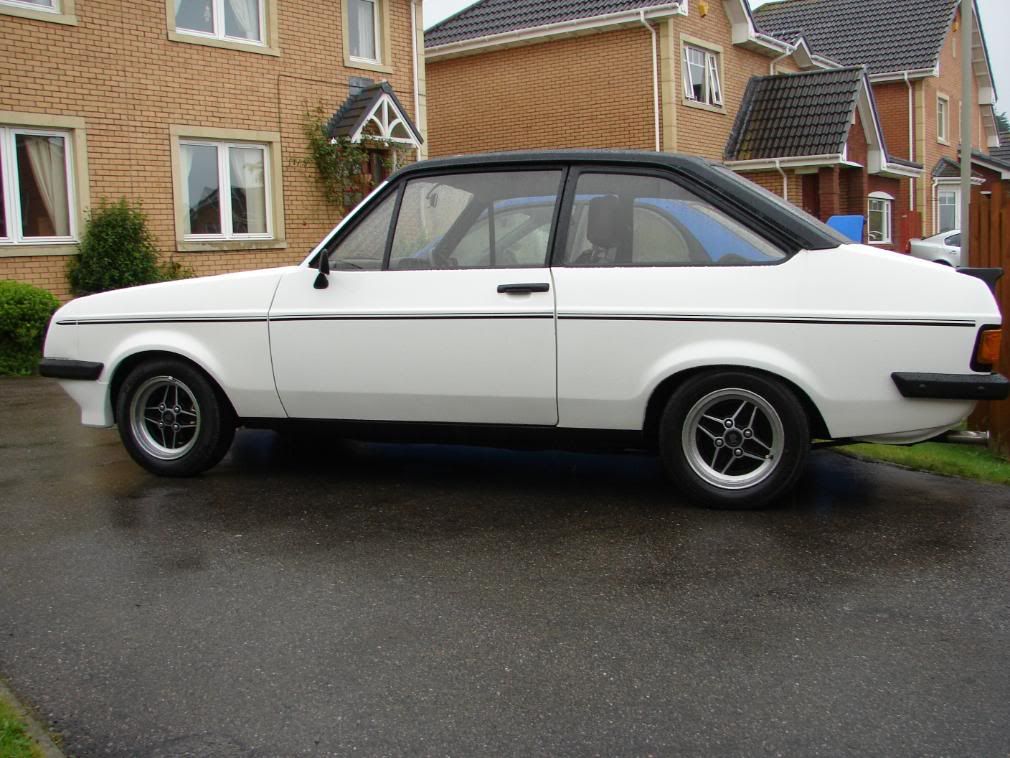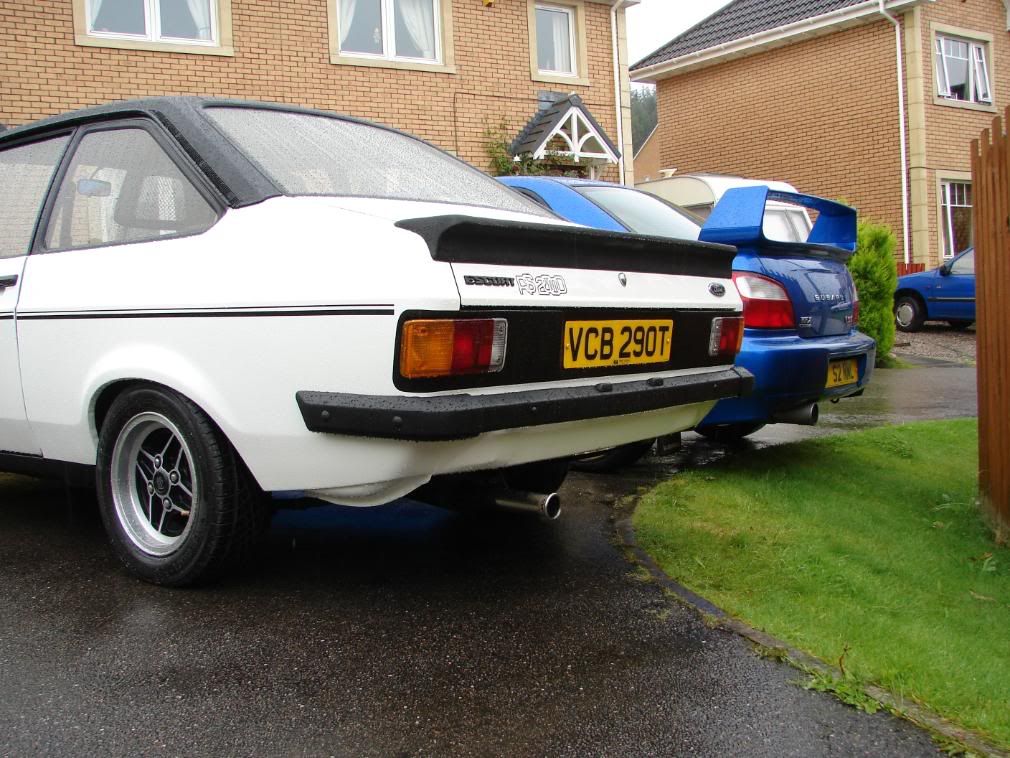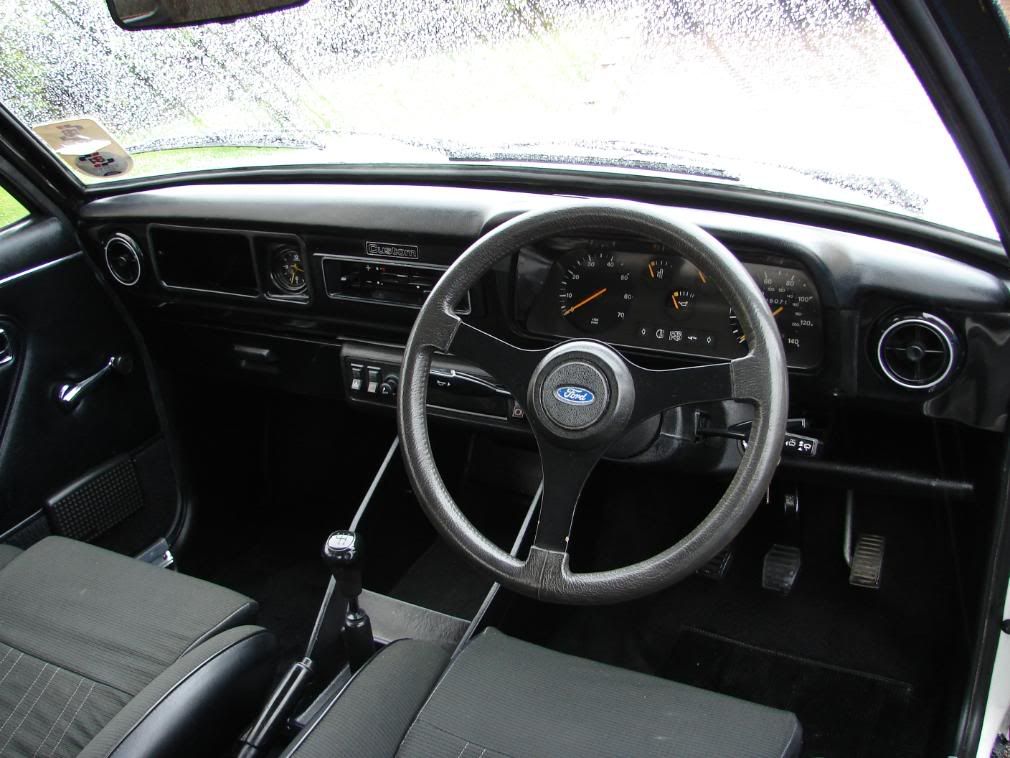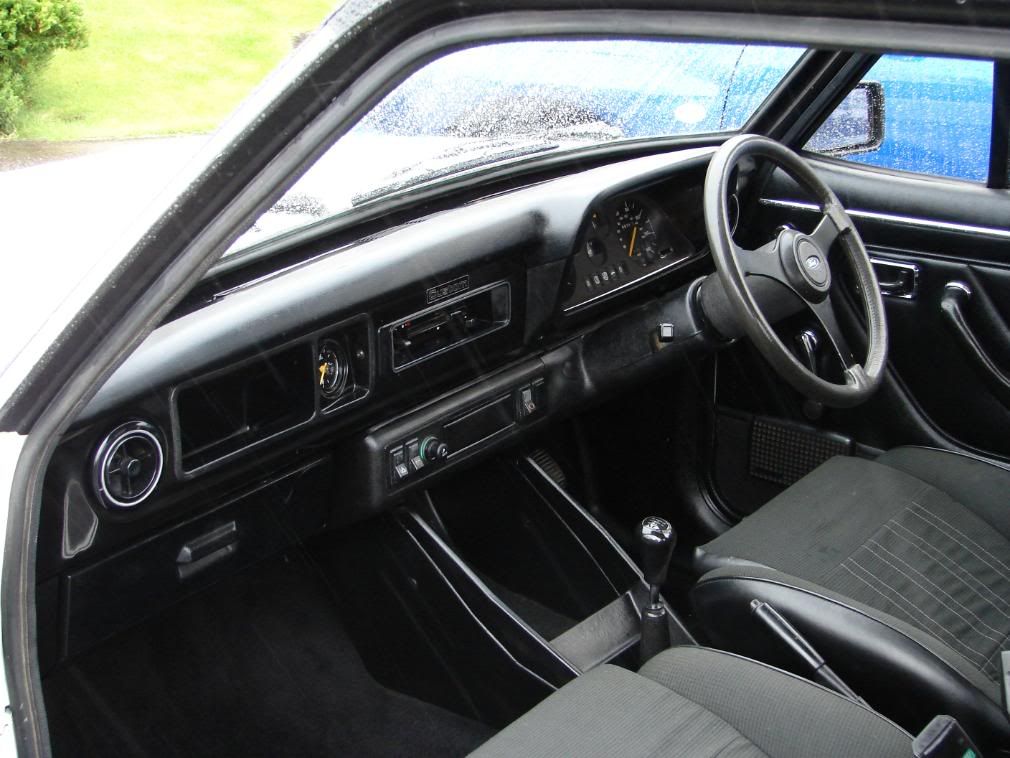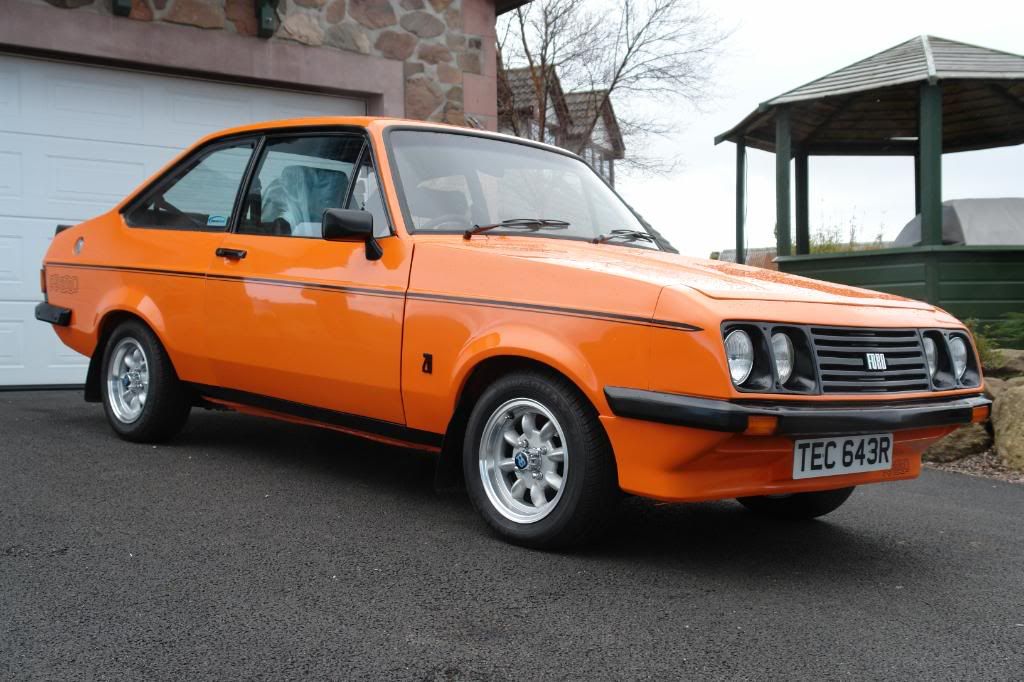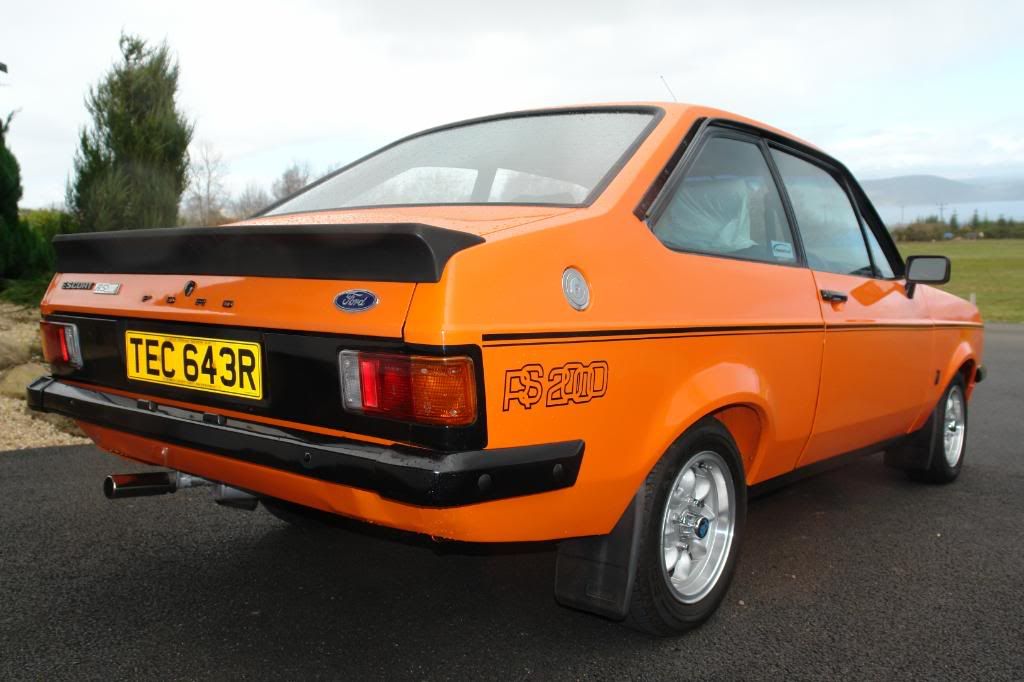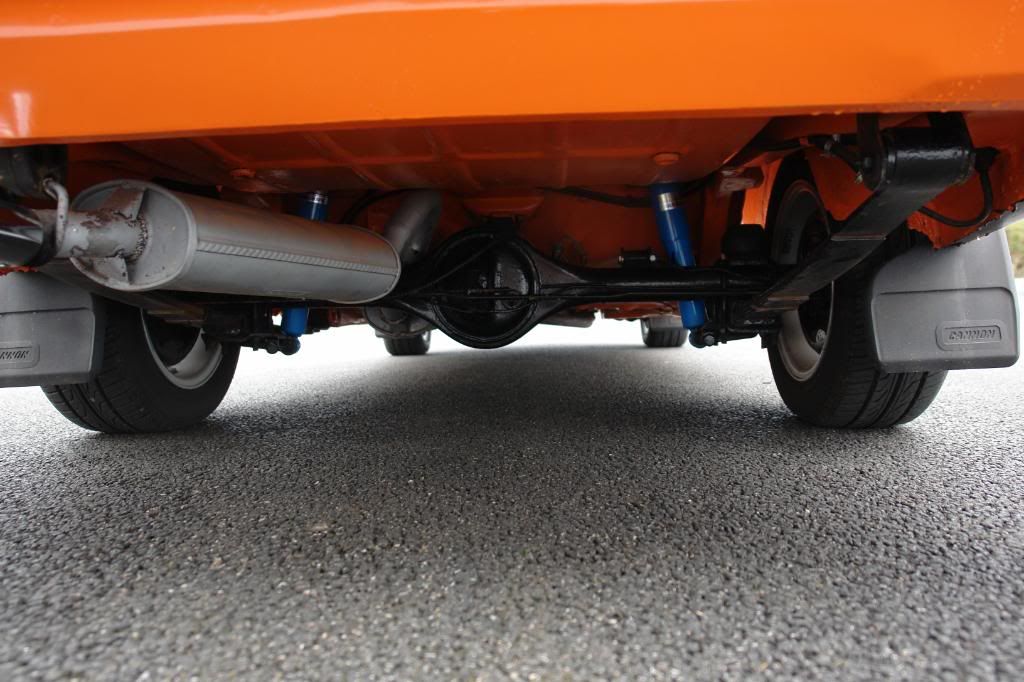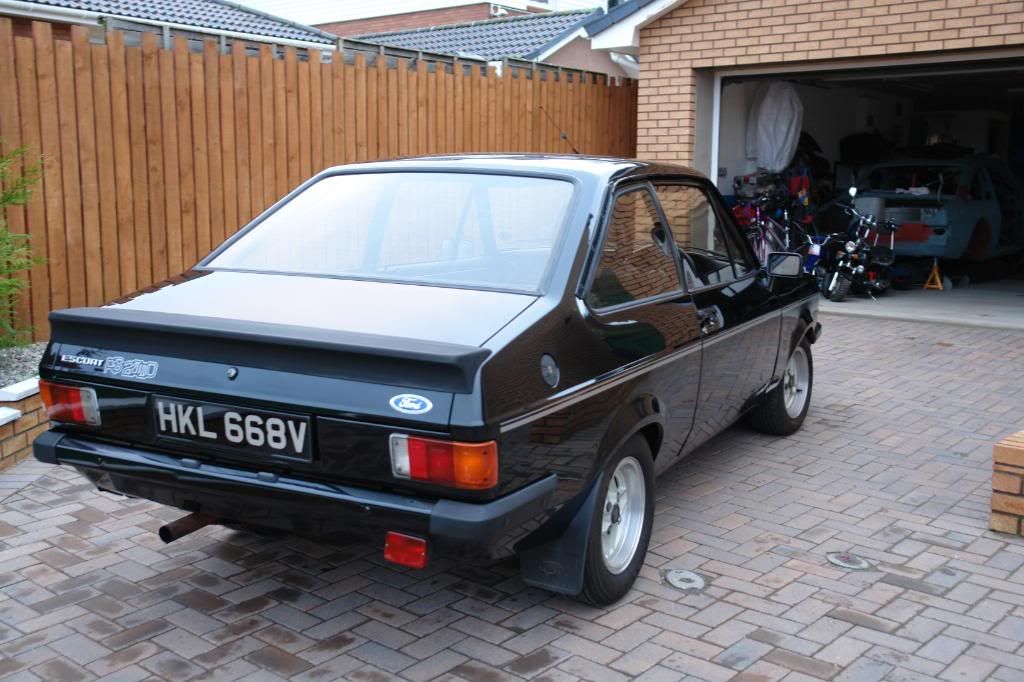 And how would you like this in your garage?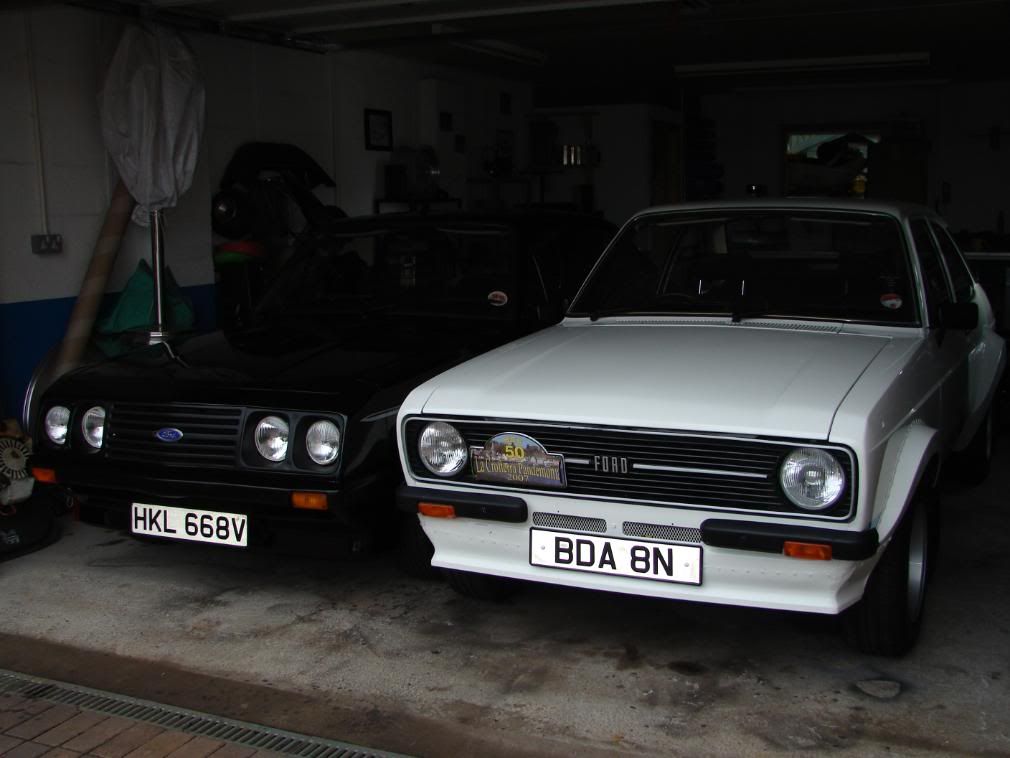 Finally, would you believe this was the same car at three stages in its development? Norman bought this Escort from Roddy and Ali Graham who had transformed it from a poverty spec 1100 Popular to a stunning RS1800 replica. Notice the classic plate Norman now has on this car in the last pic.