This is the motoring history of Ian 'Critchie' Macritchie, son of Ian Macritchie, local builder. As well as being an able pilot with exquisite taste in cars, Ian can turn his hand to even the most complex rebuild and his attention to detail is just stunning. I've helped him with a couple of projects and nothing is left undone. As you can see below, the finished product – without exception – is stunning.
Unfortunately, there are gaps in the story in regard of some nice cars where there are no photos available but I'm sure you will agree that the photos below more than make up for the gaps.
Ian's first car when he was 16 was a green Rover P6, WGE —H. Ian bought the car from 'M' (J & E's Bakery), stripped it to the bare metal, sprayed it and sold it to Sandwick. No photo.
He then moved onto a nice deep red metallic Mk2 Escort 1.3 Ghia with a black vinyl roof, CGB 14S. Ian bought this car from Brian the Cop. Brian has since sadly passed away but he was one of the best policemen ever in Stornoway from a cruiser's perspective – he knew the car scene and understood the frustrations of young drivers. Ian sold CGB 14S to Dodo the Postman. No photo.
Ian's next car was an Olympic Blue Mk1 RS2000 replica, TVA 607M. Cal (Calmax) had this car with a Burton Crossflow engine and sold it to Ian minus the engine. Ian installed a 2.0L Pinto and repainted it the same colour. The car was sold to Cabby from Ness who drove it into the back of Calum Six's Cortina Pickup Fish Van Write off.


The next car for Ian was PDS —P, a white Mk2 RS2000 sourced from Inverness. This wasn't the best of cars and benefitted from a full rebuild by Ian. Ironically, Ian didn't want to sell it in the islands so he took to to Glasgow and put it through the Mart only for a college mate from Barra to buy it! No photo.
XSA 400S came next – a stunning Venetian Red Mk2 Mexico and Ian's favourite car. I remember that car well. Ian bought it from Beans (North Tolsta) and ran it on RS alloys. We think that Norrie Clane had XSA 400S first and sold to Beans who sold to Ian. Somewhere along the line, the Mexico stripes had disappeared so Ian replaced them on the car. This Mexico was sold to Ness and then passed to JoJo. It may have played a part in the Cannery Road Phone Box fiasco related in the ANK 245S post, either as the collision car or the car provided by JoJo to cover damages but don't quote me on that. According to DVLA, XSA 400S was last taxed to July 1992 Unfortunately, no photo.
A Jade Green Opel Manta 2.0SR Berlina was the next car in the collection, HDS —T. Ian bought this car from Donald Tochie but I remember Buddy crashing it outside the Royal in a dramatic four car pile up. Buddy was tramping on in Bayhead, this car pulled out, face on, from outside the Royal, Buddy went to go round him but he kept coming. Buddy hit him head on, the other car rebounded into a parked car the followiing car, racing Buddy, crashed into the back of the Manta. No photo.
OMS 777T came next, another deep red metallic Mk2 Escort, this time a very clean 1.6 Ghia with a 1760 crossflow and RS alloys. He then sold to Carrots in Back. No photo.
Who remembers Ken McBride, PE teacher in the Nicolson? Well, McBride had a Mk2 Escort 1.3 Ghia in Cosmos Blue. Low mileage but completely neglected. Ian bought this car and transformed it onto a stunning X-Pack Escort with a 1600 crossflow engine, X Pack decals and 8″ Alleycats with polished rims. The original 1300 GT engine went into my Mk2, HUG 237T (good engine). This was a stunning car but, unfortunately, only one photo of it exists. Ian sold to Calum Tochie who ran it for a while and then sold to the mainland.


A white W reg Mk2 Golf followed, sourced from Bearsden. It was sold locally then went on fire while the next owner had it. The Golf was quickly followed by a Graphite Grey Escort XR3i from Aberdeen. No photos.
Ian then bought XAS 888V, a Talbot Sunbeam Ti, covered in the Ian Murray thread in this forum. The car went off the road at the Waterworks and Ian sold it to Louis Don in Tong and it was never seen since. The picture below is of the previous owner, Ian Murray (Garrabost), standing in front of XAS 888V.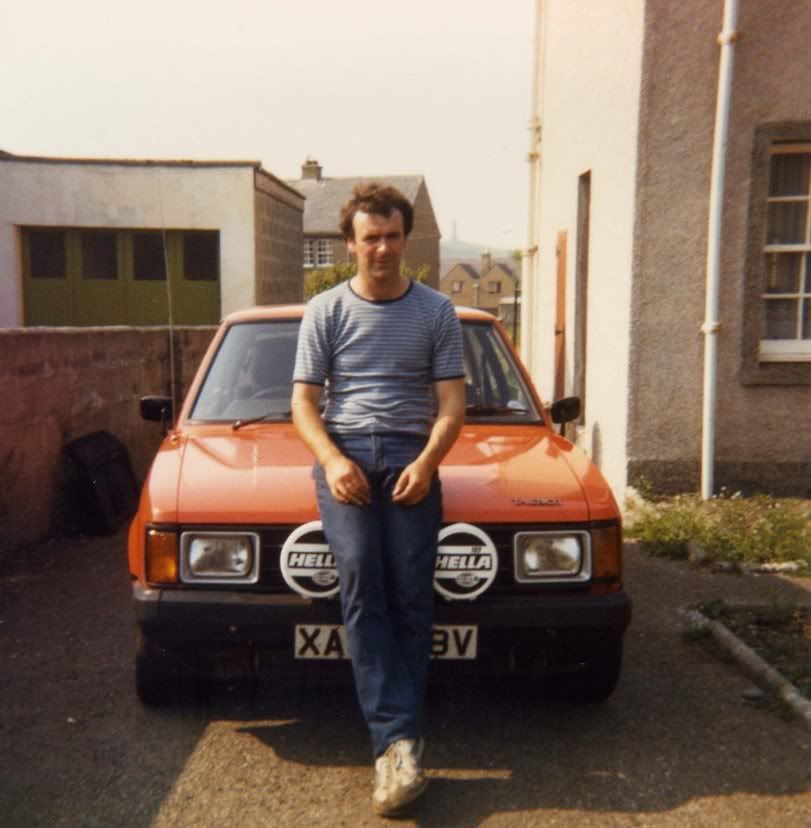 Then it was into the Manta phase good and proper. A— RGA was a silver Manta 1.8S Berlinetta. Ian drove this car off the road at the end of the Braighe ….. and then drove it back on again but it needed a bottom half respray. Joe Campbell bought this Manta from Ian. No photo.
Next came a stunning Manta i400 rebuild, A855 ESF. This is the best rebuild I've ever seen in Stornoway and I was proud to be a part of it. The base car was a standard Opel Manta 2.0GTE sourced from Glasgow. Ian ran it in standard trim then swopped it to Norrie Clane for this red Astra GTE.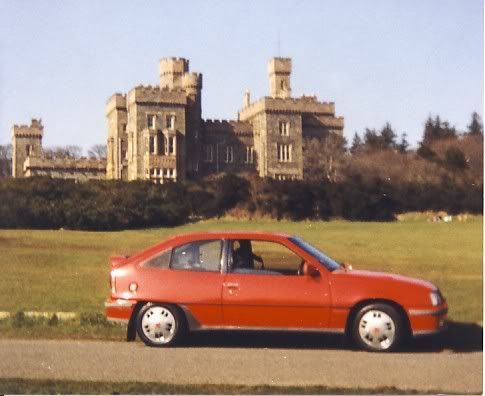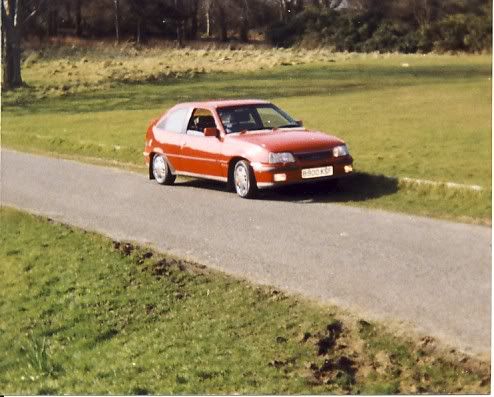 Norrie Clane sold A855 ESF to Tochie Beag who left the handbrake off outside Todd's house on Long Lane, off Stewart Drive. The Manta rolled down hill into a lampost and was written off. Damage was fairly minor and Ian bought the write off from Robert Hughson and started a fantastic rebuild. There's more in the Build Up forum but here's the finished product and I wonder who the photographer was on this occasion?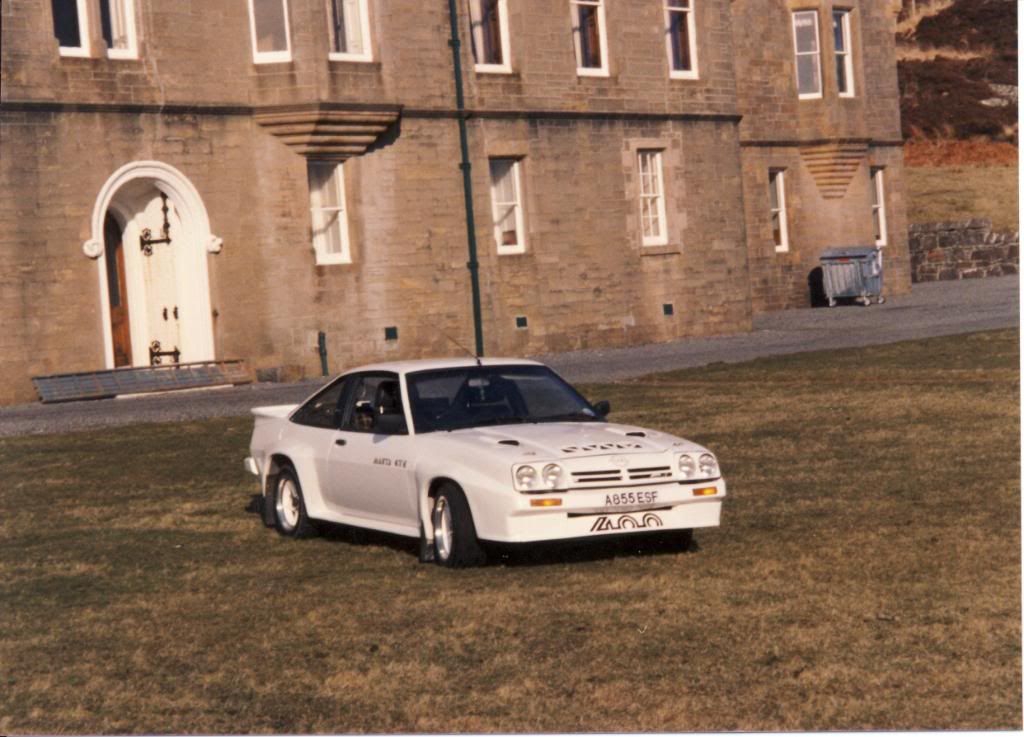 A855 ESF went to Oban where it was seen, years later, in a very sorry state!
E855 ESF was sold to the mainland in order to buy B102 KCU, the first of several nice BMW's in Ian's stable. This was a red 323i sourced from Kilmarnock.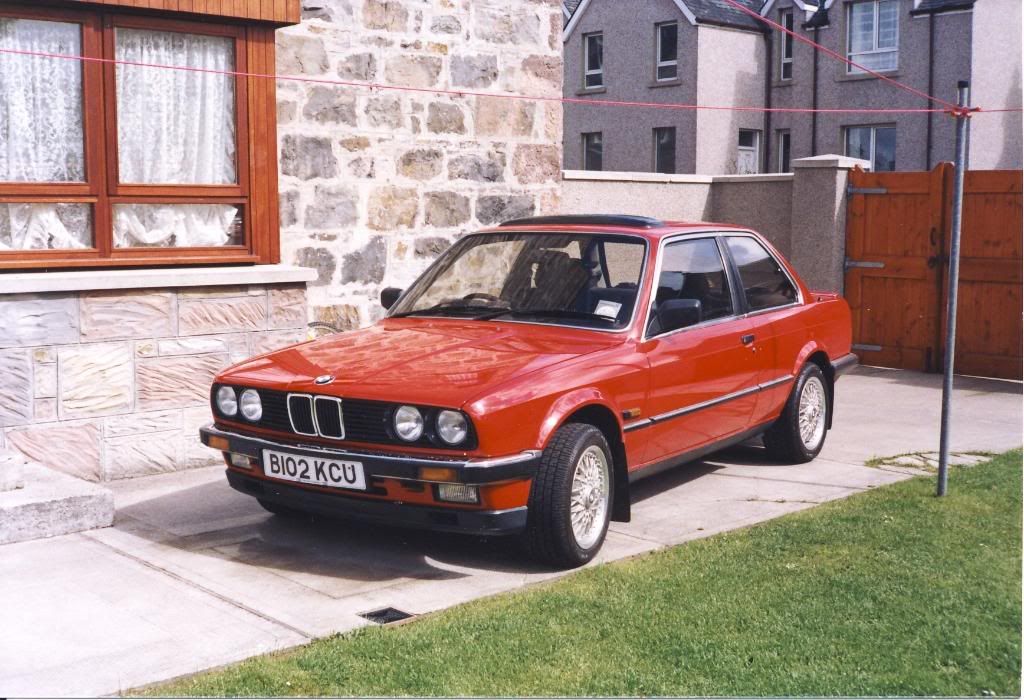 Ian then got hold of C582 MGA, a standard BMW 320 which Roddy County's mother had crashed. Another stunning E30 M3 Replica rebuild followed (more in Build Up forum) and here's the finished product on split rim Compomotives and lowered suspension. The car was eventually sold to the mainland.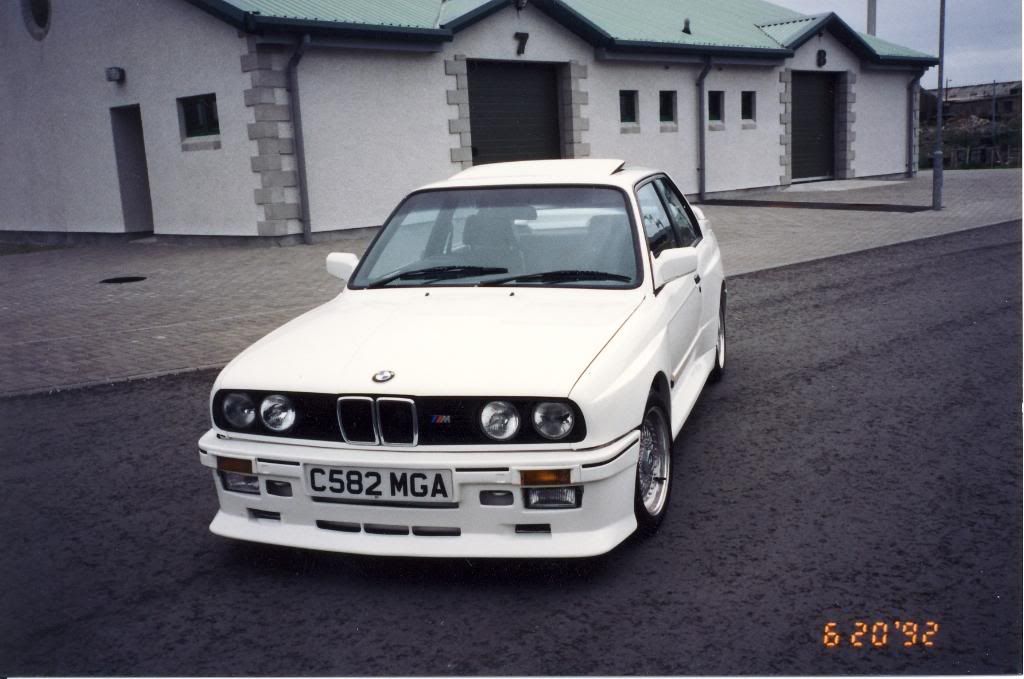 F— ESF (Ian's not very good with numberplates
) followed, a 325i Sport sourced from Sheffield at just three years old. This car was sold on the mainland. No photo.
By this time, Ian was getting restless again, looking for another serious rebuild and he found it lying outside Riddell's garage – a purple F reg Golf GTi with a knackered engine and the back window panned in. There was 2″ of water inside when Ian collected the car. A replacement 8 valve engine from an Audi 2.0 Sport went in and the car was given the full BBS treatment with full bodykit, lowered suspension, 16″ AZEV alloys (flat five spokes). The engine was chipped to enhance progress. No photo.
E281 VBU followed – a white Toyota Supra 3.0 24 valve. This car had been rolled by a certain North Uist Minister who is a registered user of this site  – didn't see that in his 'My Cars' blog!! Plum in Newmarket ended up with the wreck but took cold feet when he saw the price of Toyota parts. Ian stripped it, painted it and sold it to a trader in Glasgow.


Next came G731 XNL, a stunning BMW 325i Sport. This cracking car had to be resprayed after a bodach rammed the door and took off outside Church. Ian fitted 17″ TSW Hockenheims which necessitated rolling the arches and the car is still on the go in Ullapool.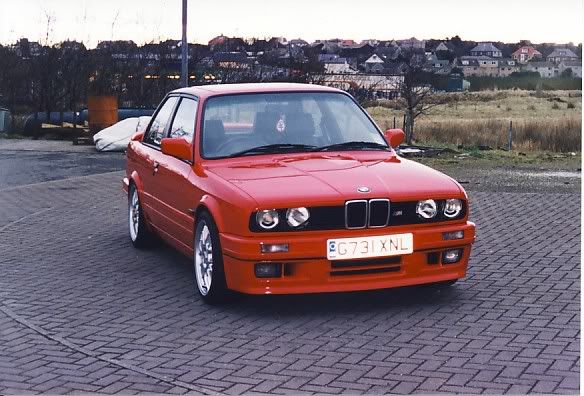 M495 MRP followed, a Vauxhall Astra 1.8 16v Sport. This car is currently owned by vauxhall16v and is for sale on this forum. Current pictures are available in the Build Up section but here's how the car looked when Ian had it.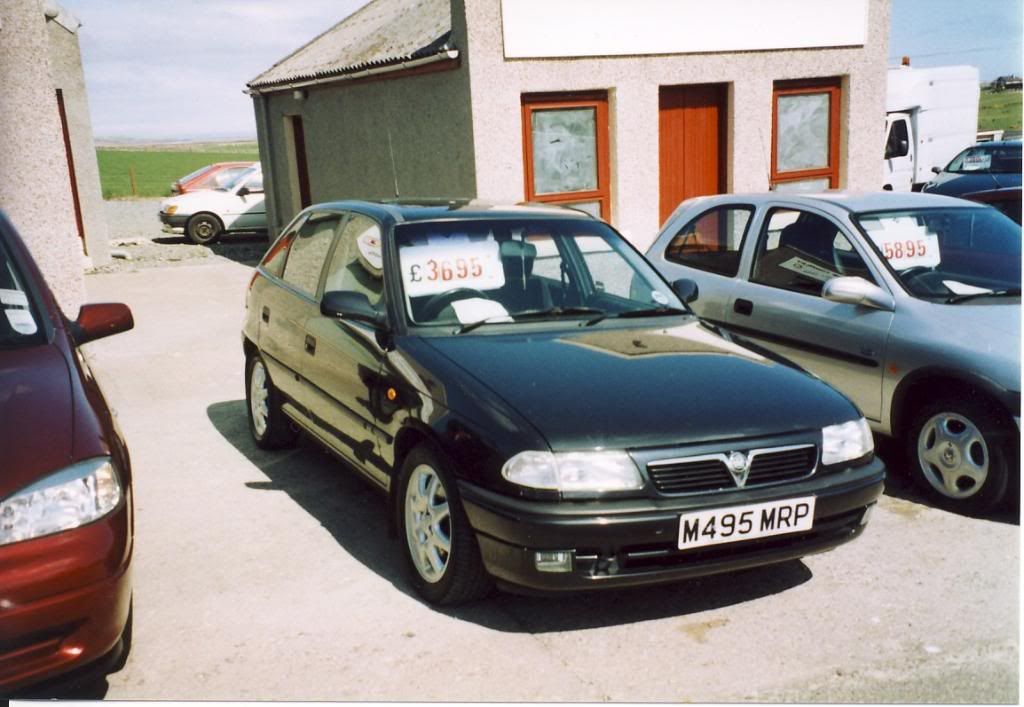 The next car was an immaculate blue BMW 328i Sport, sourced through David Kiwi from one of his work colleagues in Henry Brothers BMW in Glasgow. Ian ran the car on the N2 SCT plate and it was immaculate. It was recently sold to a cousin of Norman Gagan's. No photo.
Ian is now running around in an uninspiring Astra Van but he has a nice project underway in his garage. A minted Mk2 Escort 1.6 Ghia 4 door in Cordoba Beige. This car requires no work so Ian is just going to fit new 7″ RS alloys, a Janspeed exhaust and uprated suspension. Nice