Roddy Graham is an automotive institution in Stornoway. Nobody has done so much to raise the profile of performance cars than Roddy (and his brother Murdo). Roddy is well known as a purveyor of AVO products – as stated elsewhere, at one time, he was shifting more RS's than Cordiners, the main Rallye Sport dealer in Inverness. A very high proportion of the Mexicos and RS2000′s that made their way to the islands in the late 1970′s and 1980′s were sourced by Roddy. And if you crashed one, don't despair, Roddy would source a new shell for you too!
Here is a brief picture history of this Legend, including only cars that he ran as his own. There are countless Mexicos and RS's which Roddy sourced for others but which do not appear in this record. Many of these cars feature elsewhere in the site and, where possible, we've noted that they were supplied by Graham Motorsport. Unfortunately, the quality of Roddy's photos does not match the quality of his patter and there are many gaps in the history in terms of pictures. We have, however, tried to record the registration number of every car that Roddy had – the man has a photographic memory for number plates!
Here's Roddy, Murray from Uig and the Butt from Point alongside SOO 378R at the 1985 Tour of Trossachs Rally in Aberfoyle, Perthshire. On that occasion, the guys were there as service crew for brother Murdo.


HNC 207C, a 1965 Ford Cortina GT and Roddy's first car. Brother Murdo, who is a couple of years older than Roddy, did a lot of work to this car. It was a 1500 pre-crossflow, bored out to 1580 with uprated and lowered suspension. Murdo fitted 40 DCOE Sidedraught Webers and the old Cortina would pull 108mph in the right conditions. Here's Murdo pictured alongside HNC 207C.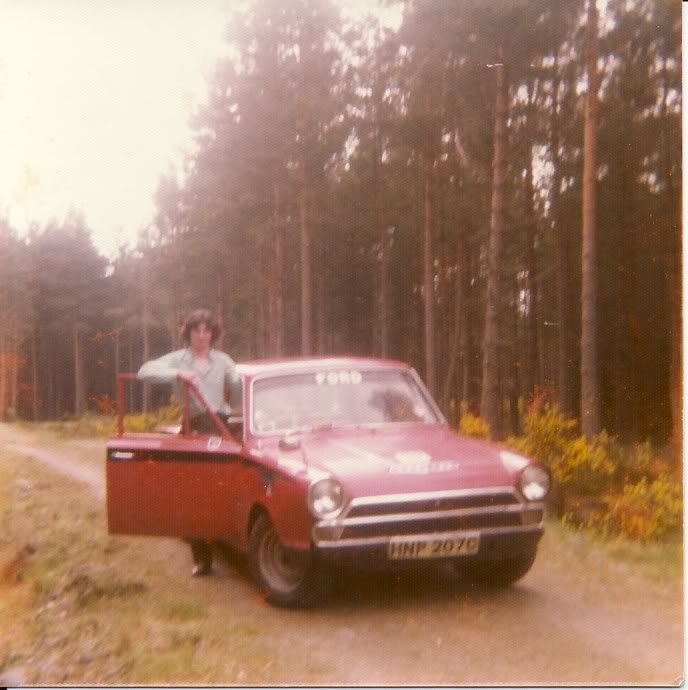 Roddy's next car was an unremarkable 1966 D registration Mini 1100 (no photo).
Next came this Hillman Hunter GLS, NNS 55M, run in standard trim.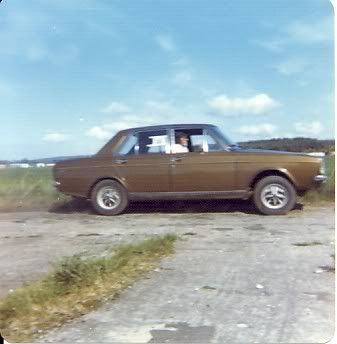 Roddy then moved into the AVO phase with a whole string of cracking Mexicos and RS's. Unfortunately, few photos have survived from this period.
WCA 532K, a Mk1 Escort Mexico which big bro' Murdo used on road rallies (no photo).
GGE 2L, another Mk1 Mexico in white with RS2000 stripes.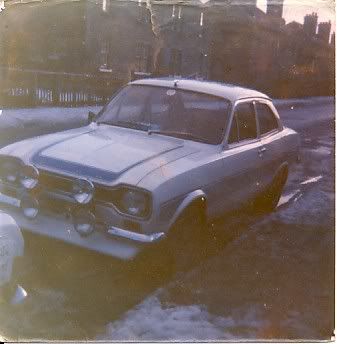 HST 24F, an entry level Mk1 Escort with a 1700 crossflow fitted (no photo).
DAY 86K, a red Mk1 Mexico with black Mexico stripes (no photo). Kenny John Macleod from Barvas sourced this car in Glasgow and sold it to Roddy in a part exchange deal for a motorbike
Apart from four Cibies, the car was in standard trim. Roddy sold DAY 86K to Fort William but the story didn't end there – look out for the LSC 853N entry later on.
BVW 14L, a genuine Mk1 RS1600 with BDA engine bought from Donald 'Queenie' Campbell (Back Garage). Roddy removed the engine with the intention of Murdo using it as a 1700 rally engine but nothing came of it so the unit was sold to Precision Engines in Inverness. BVW 14L was sold as a rolling shell (no photo).
JDY 543N, a black Mk1 RS2000 with a red pinstripe bought, again, from Donald 'Queenie' Campbell who had sourced the car in Glasgow. JDY had an interesting history in the Hebrides – check the Jim Auld thread for details but suffice to say that it was written off at least twice and was latterly white with blue RS2000 stripes. Roddy sold this car locally, it went to the mainland and then returned to Stornoway, then Barvas, then Swordale, then Jim Auld finished it off (see Jim Auld thread for photo).
DRA 500P, a very nice, early example of the Mk2 droop nose RS2000. Roddy bought this car in Dumbarton and sold it to Fort William where it was written off two weeks later.


ONM 412M, an Olympic Blue Mk1 RS2000 – just like the one below – which Roddy used in road rallies.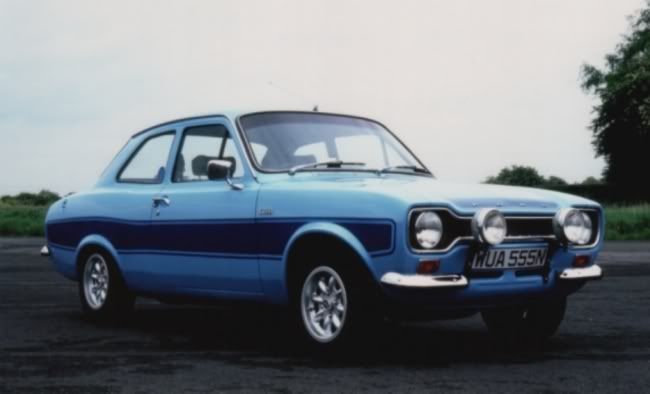 DBS 66L, a blue Mk1 Mexico.


TGS 633K, a cracking Daytona Yellow Mk1 Mexico with black Mexico stripes (no photo).
LSC 853N, a Medina Green Mk1 Mexico. Roddy bought this car in Nethybridge and sold it to Eric Smith, Barvas, who rolled it. Eric also owned JDY 543N after Roddy. Remember DAY 86K, the red / black Mexico? Well, around this time, DAY 86K was lying in Fort William with minor rear quarter damage. Roddy bought DAY 86K back and reshelled LSC 853N using the DAY 86K shell. Both were AVO shells so the swop was straightforward. Here's the final product, in the DAY 86K shell but painted Medina Green and on LSC 853N plates. Confused? You will be! Notice JTB 430P – one of Murdo Graham's rally cars alongside and old Alasdair Rhuaraigean's beige Mk2 in the background. See Murdo's thread in the Motorsport forum for the interesting history of JTB 430P.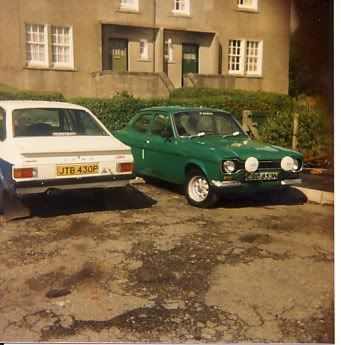 Here's Donnie Crichton from Sandwick alongside LSC 853N.


Roddy then bought the best car of the lot, XCS 778T – a Signal Amber Mk2 RS2000 – from his brother Murdo. Roddy sold to Donnie Smith from Marybank who then sold XCS 778T to Buckie in the 1980′s. Here's Murdo and Roddy flanking this stunning car.


And Murdo sitting in XCS 778T.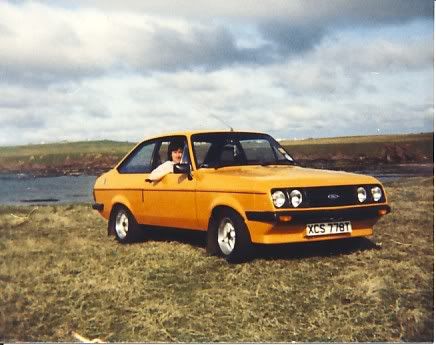 PRS 566R, a Signal Green Mk2 Mexico came next. Roddy fitted a 2 litre Punto in place of the standard 1600 OHC (see Roddy's Motorsport forum thread for more details) and here is PRS 566R at Hushinish Beach in Harris.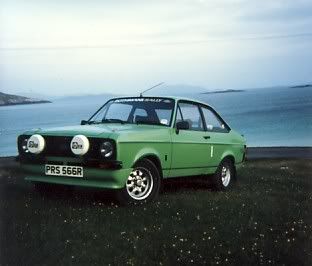 TSS 369S, a Venetian Red Mk2 RS2000 was Roddy's next car (no photo).
There followed a few Mk2′s including a white left hand drive model from Belgium. Roddy sold this car to Peterborough where it was broken up but he bought back the engine and the two brothers installed it, as a 2.1 Pinto, in Murdo's 3 door Sierra which he still has (see Murdo's Old Skool forum thread). Roddy also bought a nice W registration Midnight Blue RS2000 from Kyle and sourced ACP 825V for Murdo.


In between times, Roddy ran a series of Capri's, including the following Mk1 and Mk2. In the pic of RST 400S outside Tolmie Terrace, notice Alasdair Rhuaireagan's Triumph Dolomite in the background (the brothers eventually persuaded the Old Man to move up to a Twin Cam!) and a Mk3 Cortina awaiting surgery – all on the main road. What will the neighbours say? The neighbours, I can confirm, were sick of the whole carry on and past caring!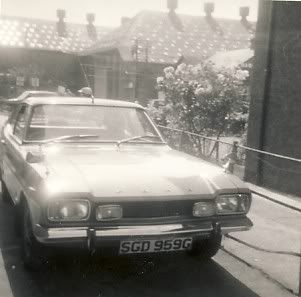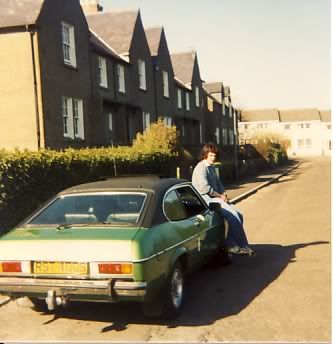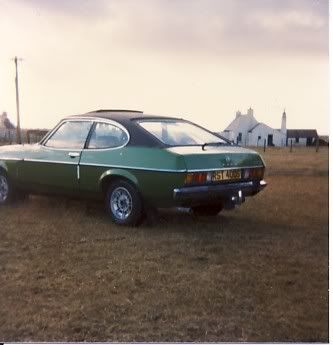 Roddy's rallying expolits are well documented in his Motorsport forum thread but it's worth pointing out that he actually hired top line rally cars to mainland competitors, overcoming with sheer enthusiasm the barrier of living on an island. Roddy ran two Escort Cosworths (L28 HDA and K906 HRS) for an Italian guy, Dino Castelli, who competed in the Scottish Rally Championship. As part of the deal, Roddy provided the service crew too – Calum Iain Mackenzie, Norman 'Motoplus' Maclean and brother Murdo. Here's L28 HDA waiting to board the ferry, attached to its service bus and complete with 'Western Isles Autosport' decals! Respect.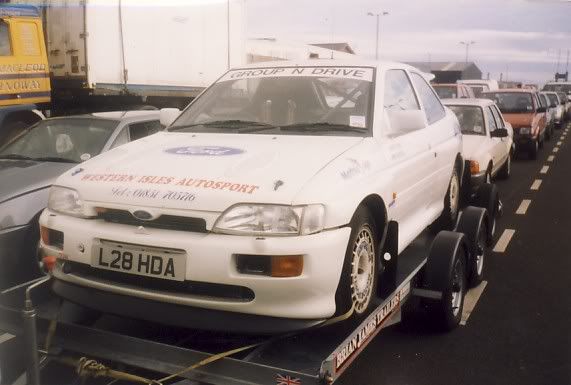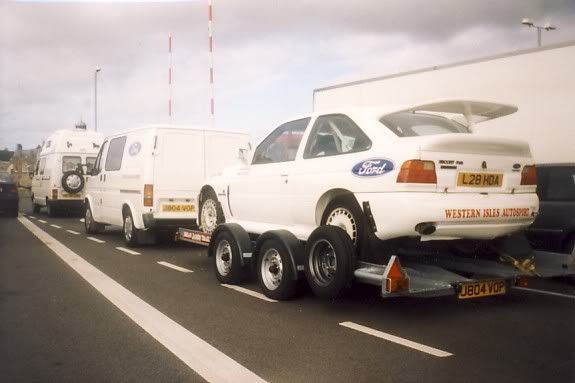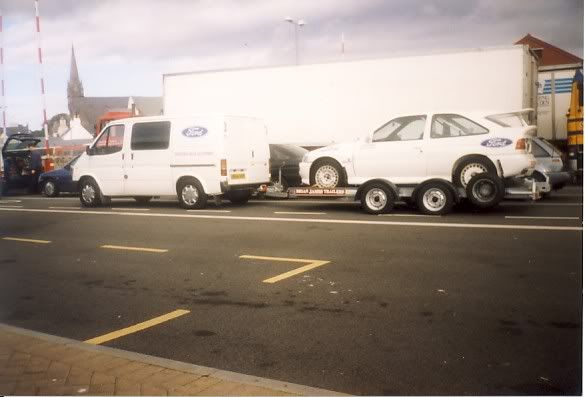 Roddy also ran CDZ 6457, a full Group N Sapphire Cosworth, and is pictured here being interviewed by a Spors Gaelic TV crew at the two day Galway International Tarmac Rally (Ireland) of 1994 when he came home as Top Scot. Murdo ran CDZ as Course Car for a Lewis Car Club Moonlight Rally in 1993.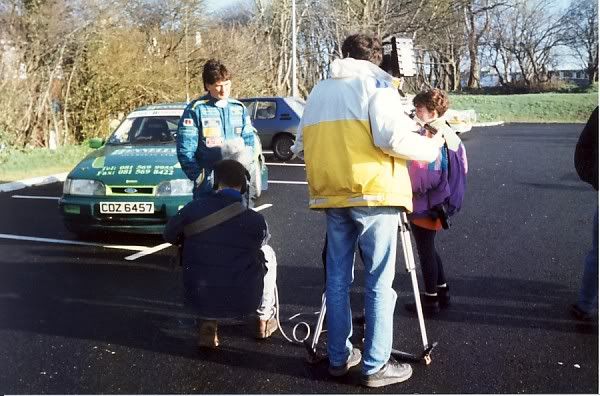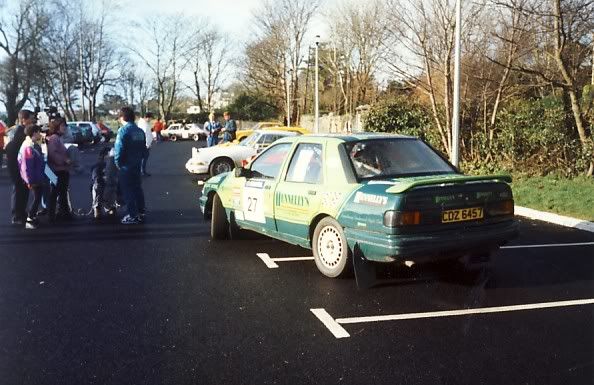 And don't forget E125 DSA, a wee rally prepared Nova SRi.