Manta Magic! If there's anything Malcy Twin is known for, it is Opel Manta Coupes. He has owned 13 (yes, thirteen) of these cars and has owned even more Capris but that's another story. I remember the local NFU office threatening to pull Malcy's insurance cover unless he took out a Trader's policy – he was changing his cars that often. Malcy, from Garrabost, had the knack of making any car look good. He could take an entry level Mk3 Escort and, with a few subtle mods, make it look the business.
Malcy's cars were always immaculate but that doesn't mean he didn't drive them hard. He did. Malcy never crashed a car ….. except for one time that I remember well.
Malcy had agreed to buy a nice Capri 3.0S from Duval (Tochie). They agreed a price and Malcy headed off down to Garrabost (in the Capri) to get the dough. Duval followed in Malcy's car. Just after Sandwick School, Malcy decided to pull out and overtake a whole queue of cars. At the head of this queue was Sweary Dan, driving an old Land Rover and pulling a cement mixer trailer which, ironically, belonged to Malcy's uncle. Sweary Dan decided to turn right into Parkend Industrial Estate, blissfully unaware of the fast advancing Malcy in the right hand carriageway. The inevitable collision occurred between Capri and cement mixer and the Capri was a total write off. Malcy had to buy the wreck off Duval. He never crashed a car again.
That's not to say that Malcy did not have some hair-raising 'moments' on the road. I remember him in his first car, a yellow Opel Ascona, pursuing another Vauxhall in Bayhead and in Cromwell Street. He eventually managed to pass the Vauxhall ….. right outside the Cromwell Street Co-op – heading in town!
Those of us parked in the Perceval Square car park saw this Ascona sliding round the lights on three wheels and all the cars emptied because we were convinced that the Ascona would be embedded in the wall of the Clachan. By some miracle, Malcy caught the car down by the Royal Bank. Here's that Ascona.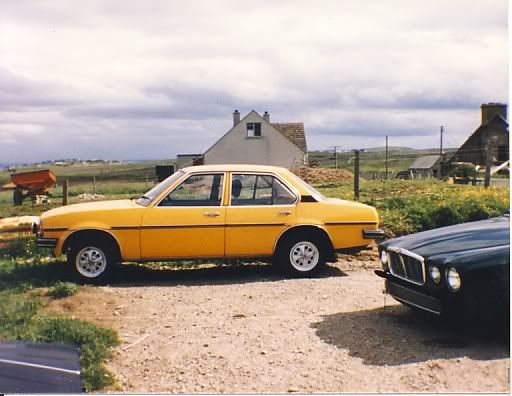 Malcy's next car was a Graphite Grey Manta coupe which he bought from Buddy. The butcher in Ness had bought this car brand new and had sold it to Buddy before Twin got it. Malcy fitted his signature rear number plate relocation kit, ran the car for a while and then sold it to Alan Nicolson of Marybank who rolled it on the Kingsmills Brae in Inverness. In this pic, brother Jonathan's gleaming ex Kiwi hire Sierra (MGB 510Y) is in the background.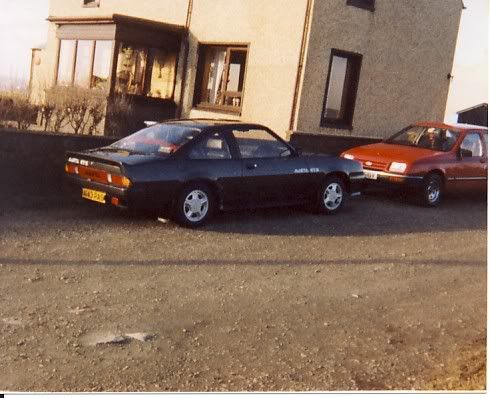 A C plate Capri 2.0 Laser came next, purchased from Alex Morrison of Stornoway Motors. Malcy lowered it and fitted pepperpot alloys. Jonathan had this car after Malcy.


A white Manta GTE, B752 KRS came next. Malcy and dfgy30 actually travelled to Peterhead to buy this car but passed on it when they saw rot in the front panel. Murdo Tiler from Tolsta then bought it and ran it for a while before Malcy bought it off him. Derek Nicol tidied up the front end and Malcy part exchanged the Manta for a silver Audi Coupe to Carrots from Back.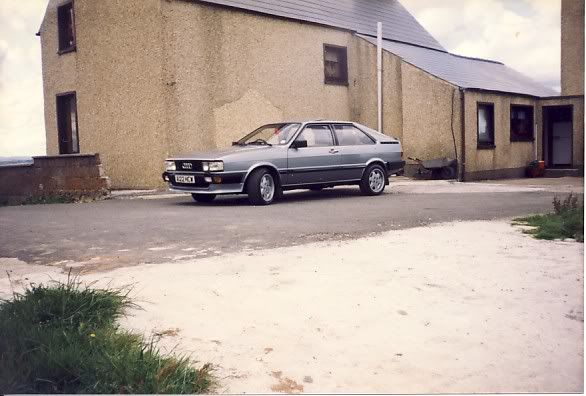 Then came my favourite (and Malcy's). A red Manta GTE, C595 URS. This car was seriously mint and Malcy kept it that way. Malcy added his own touch with an Irmscher twin headlamp conversion (look at the difference the twin headlamps make in the following pics) and front fog lamps. Malcy very kindly loaned me this set of (very expensive) Irmscher lights for my own Manta at one point – even allowing me to paint them Onyx Bronze.
Critchie did a good line in these front fog lamps at the time. Being a very tidy joiner, Critchie was able to construct a timber frame for the lights behind the front spoiler. He did the same for his own red D plate Manta. C595 URS was sold to Bouyan in Balallan – the same guy who bought B— NSO, another of Malcy's Mantas – a gold model with cruise control (no photo).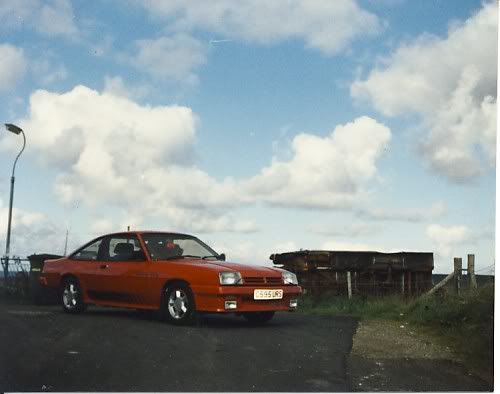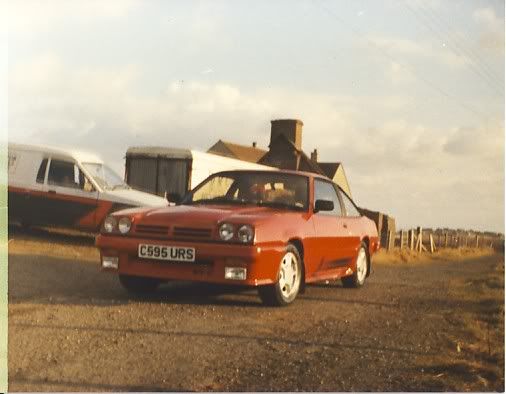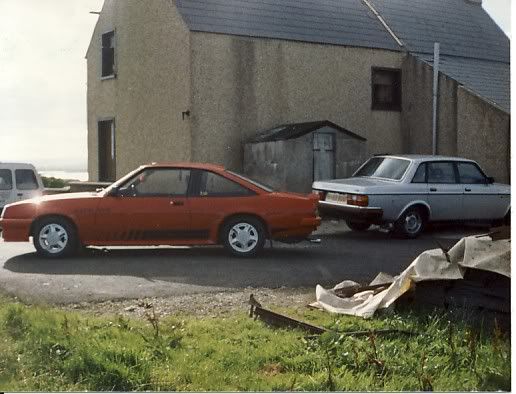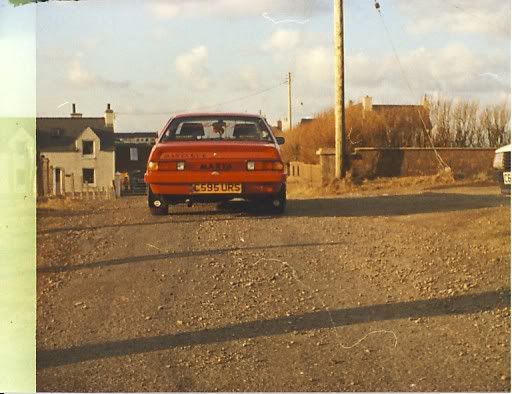 Who remembers the interior of these Mantas? Here's the inside of C595 URS – very 80′s with the tartan techno Recaros and the furry dice!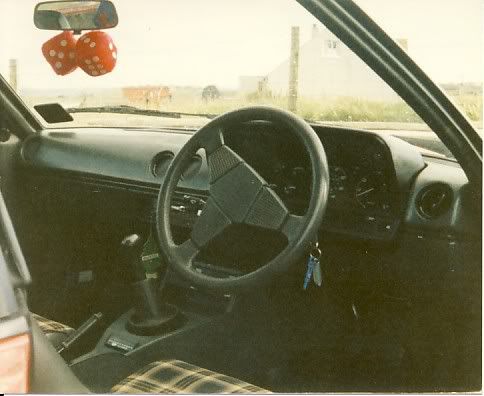 Real Old Skool! Here's Malcy's Manta alongside the white Capri Laser, Nady's two tone Granada 2.8GL (with bodykit) and his mother's red Sapphire LX.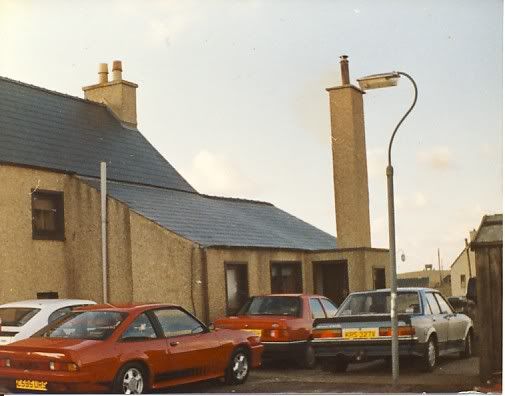 Malcy then bought an Audi Coupe, A95 CSX, from Joe Campbell in Portnaguran. This car started out as red. Malcy sold it to James the Minister.


Next came D844 TGB, a very nice white Manta GTE, pictured here outside Norman Hossack's house. Malcy did not keep this car long but sold it to George in the Caberfeidh.


Then there was B334 KSF, a Capri 2.8i Special bought from Kenny Guff in Manor Park.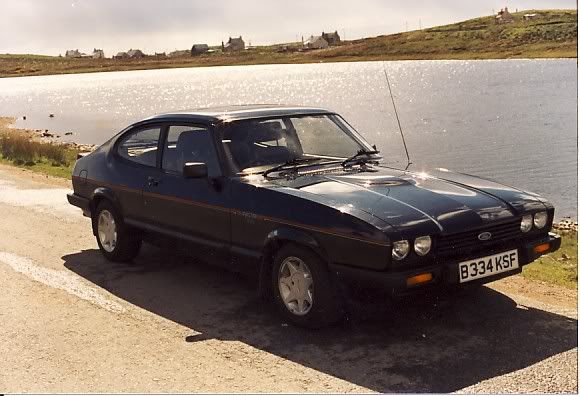 After that, Malcy went to Glasgow and came back with an extremely rapid Mk2 Cavalier SRi, B460 EGA. This car was eventually sold to Stan in Harris.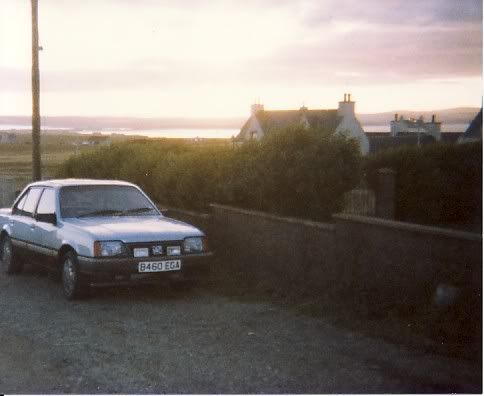 Malcy then moved on to three Audi Coupes. The first was C434 FSJ, a white model sourced in Ayr by himself and Critchie. Malcy sold this car to a TV cameraman from Tolsta who traded it in on the mainland. Malcy later saw it for sale as accident damaged in the Autotrader, bought it back, fitted a new wing, front panel and door and sold it to Norman Claypark (fotocopy's cousin). Then came G888 ESM, a smart red 2.3 Coupe bought in Aberdeen, and TIW 5657, a black F plate 2.2 Coupe badged as an S2 and later sold to Charlie Campbell from Broker.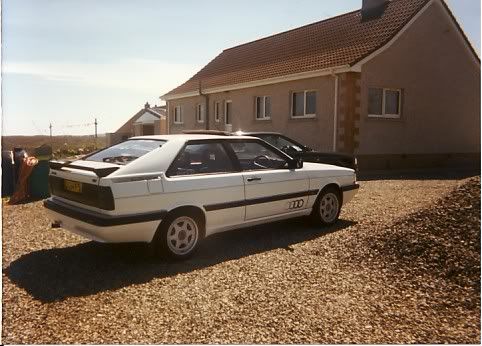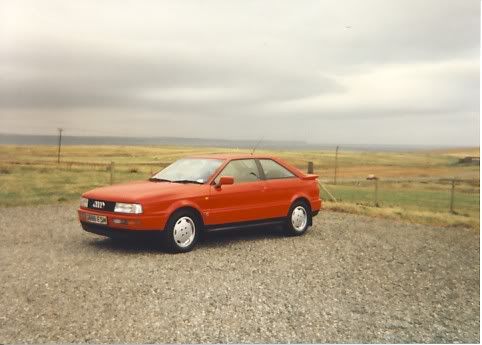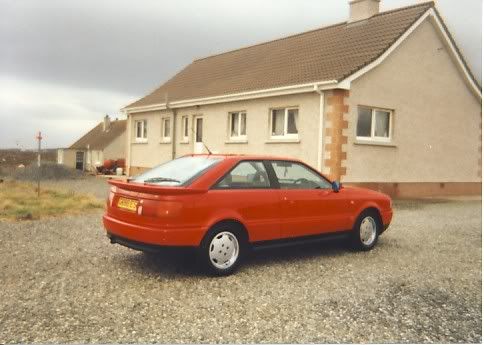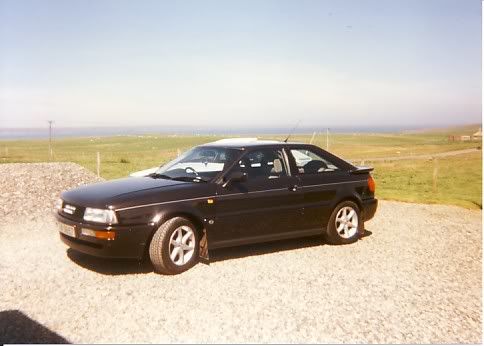 Malcy's next car was an immaculate red Ford Sierra XR4x4 (2.8 ). The Sierra came from Glasgow and Jonathan had it after Malcy.


An Audi 80 Sport then spent a short time at Malcy's back door before he went for a new shape 80 2.0S in burgundy. This immaculate car was eventually sold to Dulux in Tolsta.
That's Malcy Twin's automotive history. Obviously there are large gaps in the above collection of photos but we hope that these pics give you an idea of Malcy's taste in cars and his ability to look after them.
Here's a couple of bonus pics to finish off with. Hossack, Critchie and Floppy on the way to the BTCC race at Knockhill (Malcy behind the camera) and Hossack working on a Y plate Astra Mk1 1.6SR (re-engined to a 1.8 SRi).