This is the story of Norman Macdonald, now the owner of Central Garage in Bayhead Street, Stornoway and a true Stornoway Legend. Norman is a quiet, unassuming guy and, looking at him today, you'd never think he was a racer. But how wrong you'd be. Norman cut his teeth driving Kiwi's autocross Hillman Imp at the Barvas Autotests in the 1970′s and soon graduated to AVO products.
Norman always kept his cars immaculate and had a very smooth, sympathetic driving style so his RS's always looked good. He can handle a car at speed, whether its an Old Skool RS2000 or the latest STI Impreza.
In his day, Norman was a genuine racer. It was not uncommon to see himself in a gleaming midnight blue RS2000 and John Angie Bounce in his Lotus engined Mk1 RS1600 neck and neck down the beacon with John Angie being the one to lift first at Engie's corner in order to let Norman in.
In the early 1980′s, there was organised street racing around the backstreets in Stornoway, complete with lookouts at every junction to watch out for other cars and / or the cops and to wave the racers through Stop signs. Norman was at the centre of this scene, along with Kiwi, John Angie Bounce and the Graham Brothers. The 'circuit' consisted of a lap around the backstreets from Angus Campbell's Filling Station down Bells Road, hard right into Rigs Road then back up Rigs Road to Angus Campbells.
When it snowed, this 'circuit' was varied to start from Inaclete Road at ITEC Garage, throwing the car sideways onto Ferry Road then a four wheel drift onto Bells Road, followed by a flick left into Rigs Road, then the long right hander round to Riddell's Garage and a high speed sprint up to Angus Campbells. There were lookouts at every junction watching for other traffic and waving the cars through.
This all went well while the backstreets were deserted but then the mills got busy and people were working nightshifts to the sound of screaming Pintos and squealing tyres outside. It was only a matter of time until the Law were called and, when they arrived, Norman and two others were 'apprehended'. A court appearance followed but contrary stories from the two cops allowed Norman and his friends to get off on a technicality.
Anyway, enough of the stories. Here are some of the stunning cars Norman has owned in his day.
Norman's first car, a Hillman Imp bought at age 16 and, yes, that's Norman standing alongside it. The car lasted just 5 months after Norman passed his test, the floor and suspension points tearing apart due to torsional stresses
Norman tried his best with weld and bolted plates but to no avail, the Imp had to be scrapped.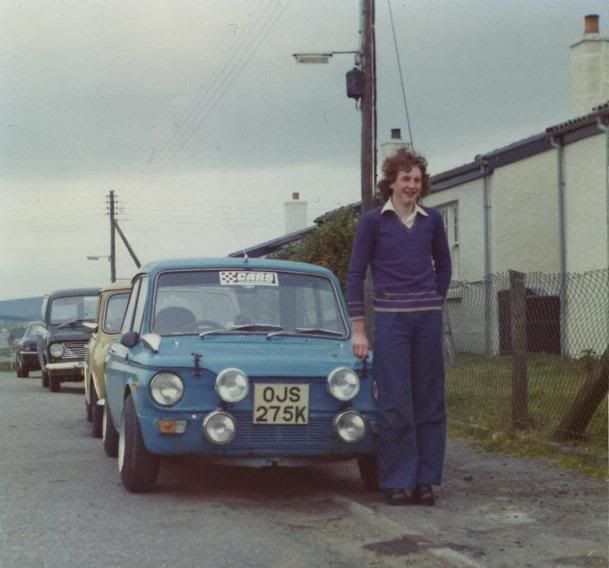 Norman then came across JJU 40N, a crash damaged Mk1 Mexico in Tolsta. The whole back wing had been ripped open and the owner did not have the funds to repair it. Norman offered the guy a Cortina in exchange for the Mexico and couldn't believe it when he accepted. The Mexico was lying at Ronnie Scott's old bodyshop (where Hamish Scott's Garage is now) and Norman and John Angie Bounce pushed it from there down to Kiwi's Garage (present day Nomie's) in their slippers and locked it up before the guy would change his mind. There followed a whole week of Nomie on the portapower and Norman on the filling and sanding, before a full bottom half respray by Nomie and JJU 40N was ready for the road. Norman later sold the Mexico to his brother in law, Roddy Beaton, and it was a common sight in Stornoway until Roddy sold it to Aberdeen where it was stolen, never to be recovered.


Next came a Signal Amber Mk2 Escort 1600 Sport with a 1.6 crossflow engine, Cibies and a Mexico front spoiler. My favourite Mk2 colour.


By this time, Norman was working with Kiwi and Nomie in the town's busiest garage in the building where the Grillburger is now. The money was good and Norman bought DSA 157T in Aberdeen, an immaculate midnight blue RS2000 – only the second Mk2 RS2000 on the island after Kiwi's KAS 666P. Norman only kept this car for 9 months, selling it to a trader in Lossiemouth.


Next came SLE 33R, a good looking but quite ropy Signal Green RS2000. Bought in Turriff in 1982, this car was damage repaired and needed a new engine and diff. Norman sold it locally and the next owner rolled it at the Blackwater. SLE 33 R could be seen around the town for months afterwards, its panels pushed out, literally, with a strainer and an ollac!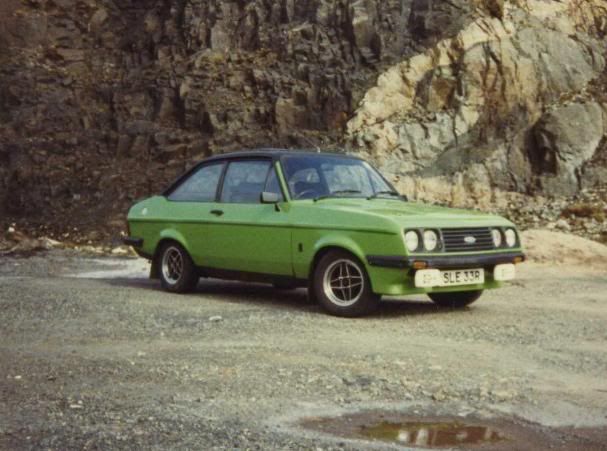 OMS 350T was Norman's next RS2000, bought in 1983. Norman heard it was for sale in Aberdeen and asked Roddy Graham (who else?), who was then working in the North East, to have a look at it. Roddy confirmed that she was a beauty but that there was other interest in her. Norman asked Roddy to buy the car for him and he then flew out to Aberdeen the next evening. He got off the plane and waited outside the terminal building but no sign of Roddy! After what felt like an eternity but was actually only a few minutes Norman heard the howl of a Pinto and the screech of tyres and his first sight of OMS 350T was the side of the car sliding towards him across a roundabout

Norman then toyed with an XR3 but didn't fancy the front wheel drive so it was back to a Venetian Red Mk2 RS2000 in 1984, SJS 158V. This was a beautiful car and Norman's last RS2000 – he kept it for only a year.


Norman then moved back to the Mk3 XR3, buying a clean Midnight Blue model. Unfortunately, shortly after buying the car, Norman had a coming together with a Cortina in Bells Road, writing off the XR3. A painted shell (black) was ordered and arrived on the Thursday night ferry. Norman worked from 5.00pm Friday through to 4.00am Saturday then slept until 9.00am Saturday and started again until 12.00 midnight Saturday night. He took up where he left off at midnight on Sunday night and worked through to late Monday night. The car was on the road on Tuesday morning – a complete bare shell re-shell in three working days!
I remember cycling down to Norman's as a 16 year old that weekend to 'help' but, in reality, I was just getting in the way.
Then came a very nice Mk3 RS1600i, OGD 183Y.


After that, Norman bought XR3′s to sell, between 12 and 15 in total, and owned a three year old Series 1 RS Turbo, B169 WST, now owned by Donnie ITEC. Following three brand new Series 2 RS Turbos, Norman settled down for 9 years with a minted Sapphire Cosworth in Moonstone Blue. Bought at 3 years old with 14,000 miles for £7K (price new was £21K!).
More pics of Normans cars