Finlay Macdonald is the Area Manager for the Scotia Gas Network,  Finlay is based at the LPG Depot on Sandwick Road. Take a quick look into the Gas Depot every now and again because you're bound to see something exotic parked there from time to time. It used to be a Lancia Delta Integrale Evo2 or a BMW M5, now it might be a Caterham Superlite or Finnie's old M3.
Finlay has a fine taste in cars and has had some collection over the years. But here he is before he started driving – age 16 and up on the back wheel of a trail bike.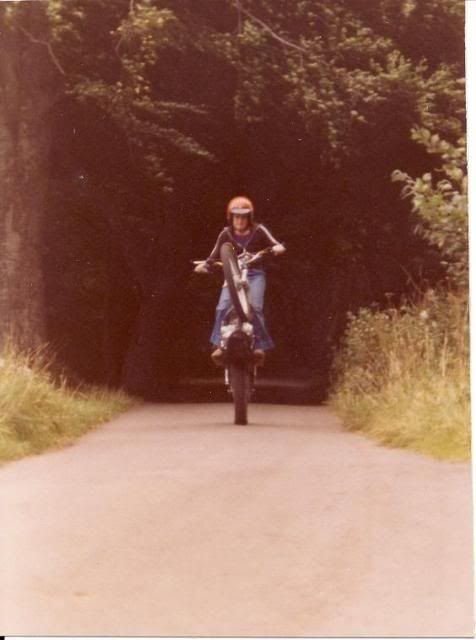 Finlay started out with a Mk1 Escort 1.3L but there are no photos of this car. His second car was a beige Mk2 Escort 1.3L – he couldn't afford to insure anything else. To make up for the power deficit, Finlay fitted Wolfrace Slot Mags and Cibies so the car looked quite acceptable.


At 20 years old, Finlay graduated to a Venetian Red Mk2 Mexico, purchased from a workmate who had owned it from new and had put only 25K miles on the clock. Despite being looked after, the Mexico needed new sills at just 5 years old. Finlay used the Slot Mags on this Mexico and then sold them to Critchie who had them on his Olympic Blue Mk1 RS2000 replica.


Finlay then moved onto a beige Mk2 RS2000, another one owner car which had been traded into a VW dealership by a GP. Finlay used the RS as his daily driver and put 70K miles on it in four years. Selling it after four years of hard use, Finlay only lost £400 on the car. I bet the rate of depreciation of his current Supercars is making him cry after this experience!
The tin worm took hold on this car too and she needed a new boot floor and a bottom half respray, carried out to a high standard by Nomie. Finlay traded in the RS to Derek Macleod (Leurbost) against a Series 1 RS Turbo (B CYS). Six weeks later, Finlay was driving through Glasgow when he saw the RS2000 in a garage showroom. He went in to see it and the salesman came at him with the usual patter – "lovely car, sir. Just had a full restoration with new engine, new gearbox etc". Finlay informed the salesman that he had sold the car just six weeks before and it didn't have any new engine or box. The salesman suddenly needed the toilet!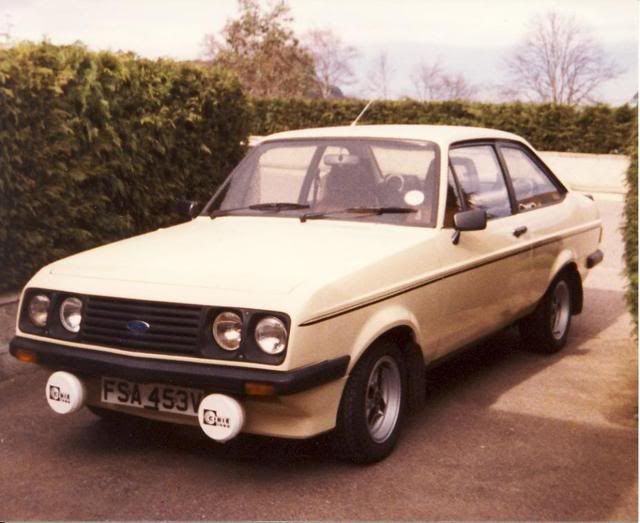 Finlay didn't fancy the front wheel drive S1 and sold it to a guy in Wick to make room for an expanding family.
Here's Finlay "Sonny Crockett" Macdonald alongside an Integrale HF at the Motorshow many moons ago. You've gotta admit, the guy's got style. It was Kiwi's idea to dress up like two Miami Vice extras so that the organisers would think they were millionaires and allow them to sit in all the Supercars. Worked up to a point!


Finlay's motorsport dream came true and a stunning Lancia Integrale HF Evoluzione II (Pearl White Special Edition) came next. Only 365 of these cars were made and Finlay found out about this particular car through the owners' club. A guy in London was getting divorced and was having to offload all his supercars before the ex wife got them. The London guy had gone to Italy to buy the Integrale and had driven it home over the Alps. It was mint and unabused, as I well know, and brightened up the streets of Stornoway for three years. This was a full blown homologation special which even had an intercooler for the power steering. It was a total rally weapon and, in Finlay's opinion, it was head and shoulders above the Imprezas and Evos of the day. The Integrale may not have been as fast but it handled well and had class. Finlay sold the car back to someone from London who flew up to Inverness to meet him. There are unconfirmed reports of the Integrale launching into the air during the test drive and this, apparently, swung the sale for the London guy. Here are a few pics of this lovely car, followed by a report from an Italian Car magazine featuring Finlay's actual car (the Blanco Perlato special edition). You can't see it in the pics but the plate HOT 44L had a tiny 'x' between the two fours so it read Hot 4×4 Lancia.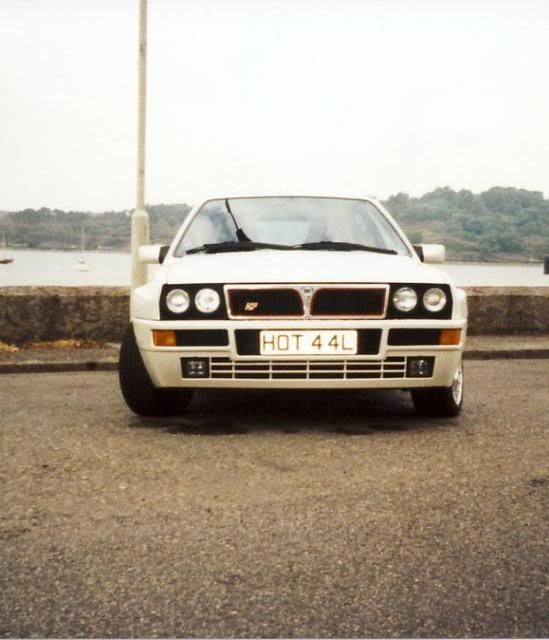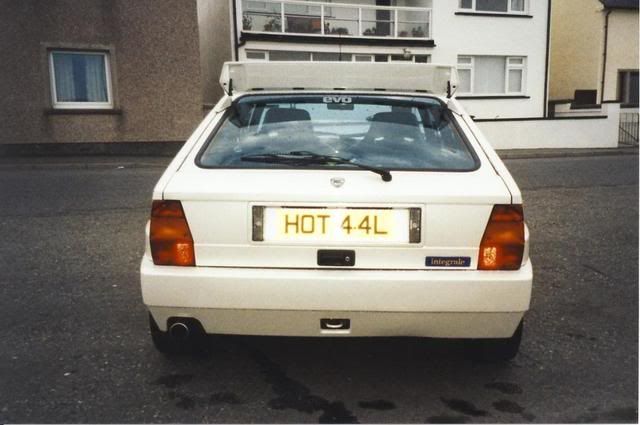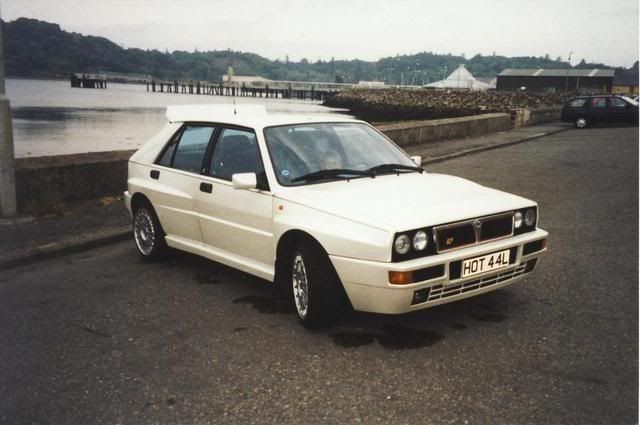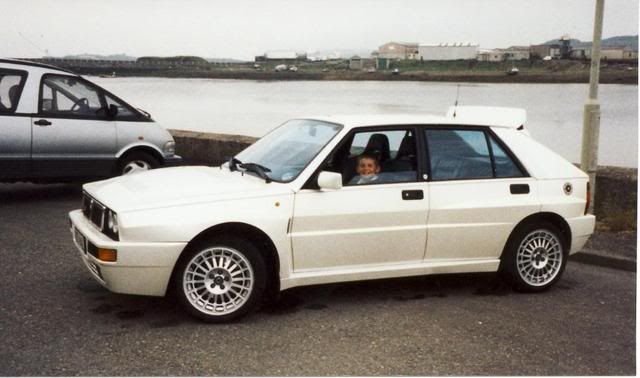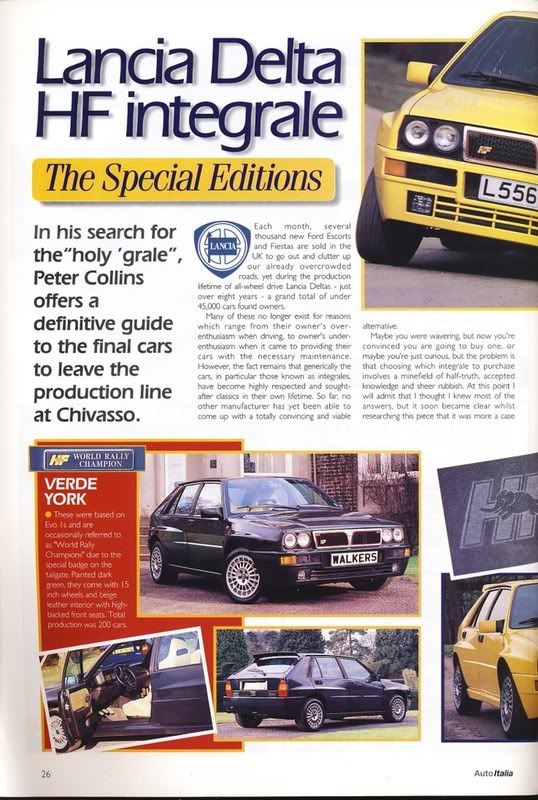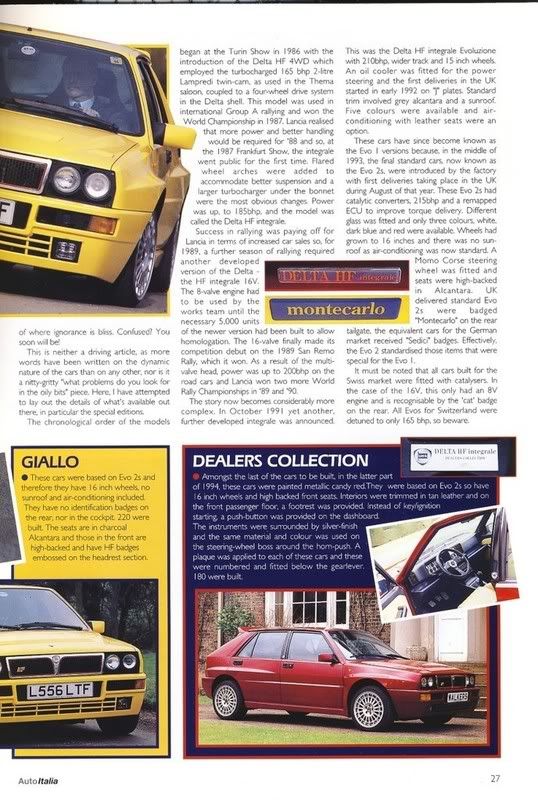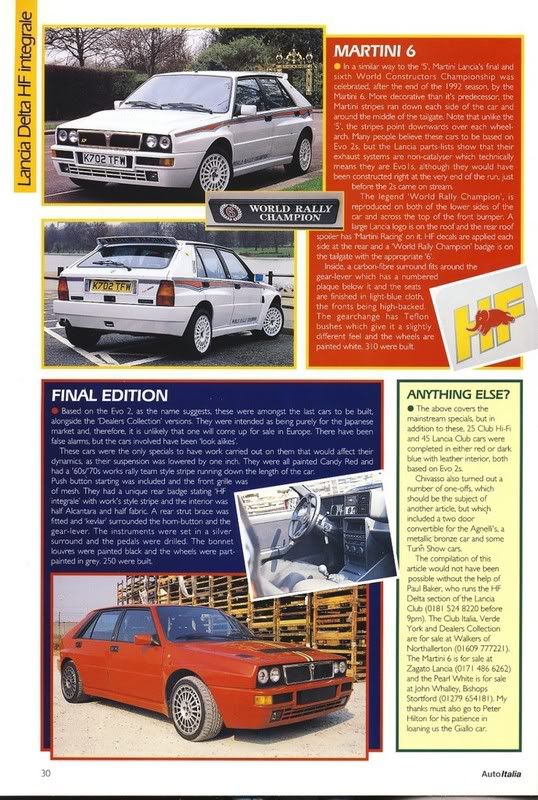 Next came the Caterhams. The first, a yellow and bare aluminium one, came from London along with £40K of receipts. It was fitted with a 160bhp Roger King Ford Crossflow 1700, balanced and blueprinted with Cossie pistons, twin 45′s etc. Finlay got Nomie to repaint the Cat's nose and wings in BMW Estoril Blue. Look closely in the photos and you'll see the yellow coming through on the nose. This was because Finlay shunted the back of Kiwi's Porsche coming out of a German junction on the way to the Nurburgring.
Here's the Caterham 5 at Zandvoort GP circuit in Holland, en route to the Nurburgring. Also in the picture are Kiwi with his old 911 and Finlay's son. I remember that, despite 'no cameras' regulations at the 'ring, Kiwi used Finlay junior as a decoy and smuggled a camcorder on under the wee fellow's jumper. Kiwi should still have footage of himself driving this Caterham round the Nurburgring with Finlay junior on the in-car.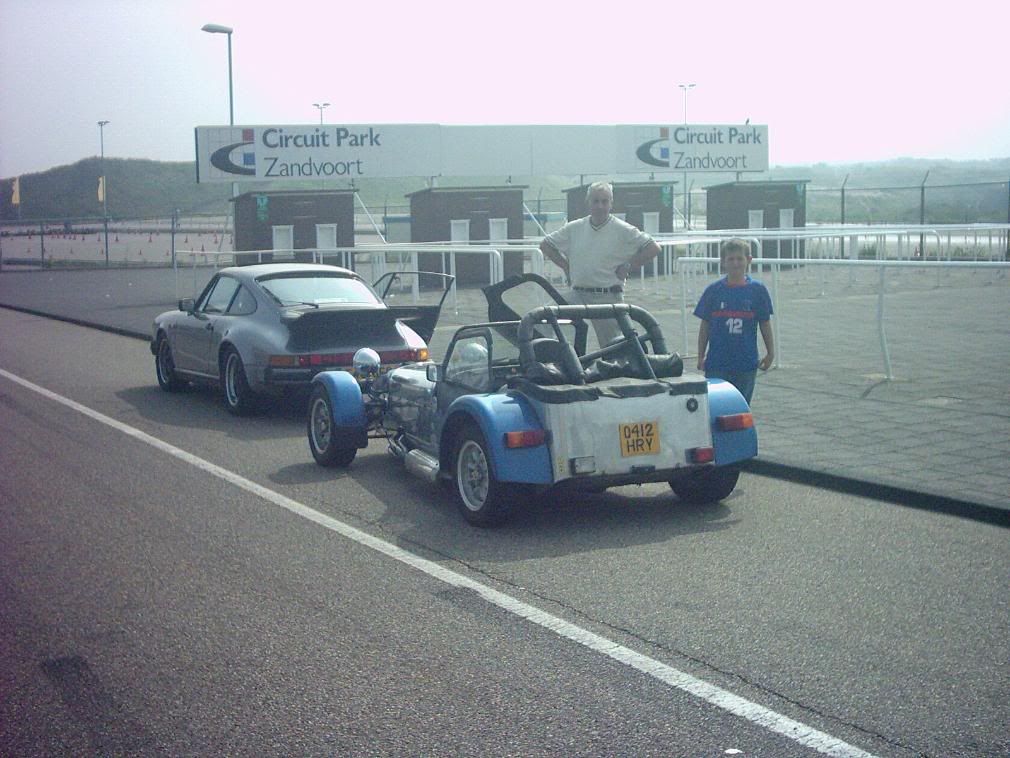 And here's Finlay's next Cat – a brutal Caterham 7 HPC – 245bhp from a Vauxhall Red Top; 0-60mph in 3.2 secs and 0-100mph in 8 secs!
Anyone who's heard the induction roar of this car round the town won't forget it. The previous owner thought it was too fast for the road so he only did 40 road miles in it but he won his Hill Climb class two years running with it. This car was motorbike quick but only did 15 miles per gallon. Finlay sold it to a guy in Nairn and it's still on the road.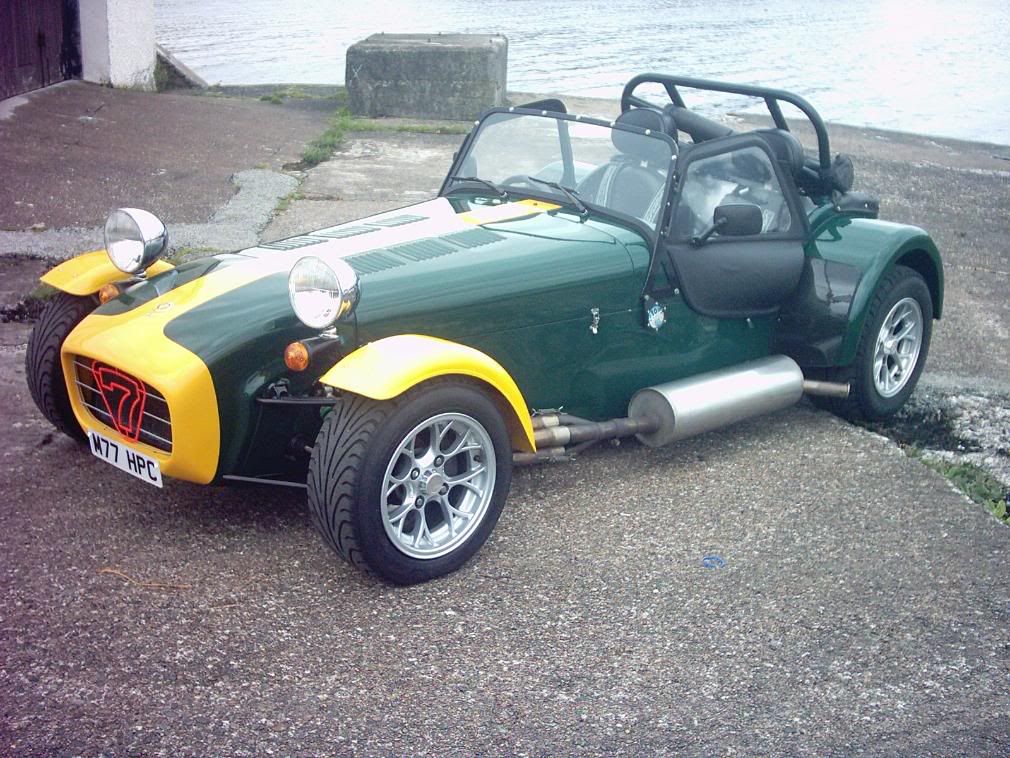 Finlay's latest Cat is a stunning yellow Superlite model with a better power to weight ratio than a Lambo Murciellago! Its running Exige throttle bodies and putting out about 205bhp. Look out for this one at our shows.
Here's Finlay's BMW M3 E46, one of three that he's had, including his current car. It was two years old when he got it and he sold it on to a trader from York.


Finlay also had this nice BMW M5 E39, a cracking car but very heavy on gas. It came from London (where else?) and was one of Finlay's favourites.


And here's the best line up of V8′s that Stornoway's ever seen – a TVR, Finlay's M5, a Ferrari 360 and a local Ferrari 430. The TVR and 360 belonged, I think, to visitors from Ireland and there's talk of a (very) high speed race which took place around the Westside one weekend involving these cars.