John Angie Bounce was a lad in Stornoway in the 70′s and 80′s.
A Cosworth BDA twin cam engined Escort Mk1 RS1600 running Weber twin 40′s. Output was 120bhp. This car came from Station Garage, Torphins (20 miles outside Aberdeen) and is photographed here in the car park opposite the Castle Restaurant on Castle Street in Inverness. John Angie sold this car to Don Macleod of Melbost. Not sure what happened to it after that.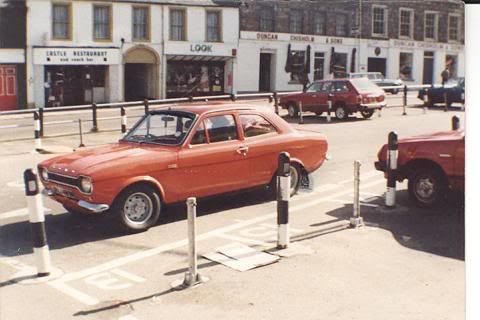 KAS 666P. The first Mk2 RS2000 on the island, recognisable by the 2.0 badge on the front wing, body strip and rolltop Recaros. Roddy Graham (who else?) sourced this car from an Inverness farmer for Kiwi who sold it to Finlay MacSween from Harris. Finlay then sold it to John Angie in January 1982. Kiwi ran the car on Wolfrace Slotmags with ridiculously wide tyres making for atrocious handling. Finlay ran it on white spoke revolutions but John Angie changed this to the original RS alloys. The car was mint but came to a sorry end. Read on.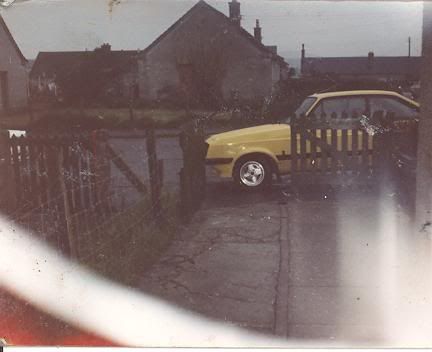 John Angie carrying on in KAS 666P at an autotest on the Barvas Machair.


KAS 666P alongside Norman Central's Mk1 Mexico (JJU 40N) and Mk2 RS2000 (SLE 22R). All stunning cars.


Now we come to the sorry bit. I know we have a forum rule about not posting car crash pictures but this particular crash is the stuff of legend in Stornoway so I think we can bend the rule in this case. On 26 August 1982, John Angie gave a lady friend a shot of KAS 666P and she lost control at Craggan's Corner, coming towards town. The car rolled into the King's Well (left hand side before Craggan's Corner) and here's the result:


Later, John Angie bought a stunning navy blue Mk2 RS2000 from a farmer in Alford, Aberdeenshire, one of the last to be built, LSO 23W. I remember this car well and she was minted. John Angie sold to a guy in Turriff who rolled it. The car reappeared in Inverness with a new roof and painted black. Lost track of it after that.